TCS sees China stamp on Digital India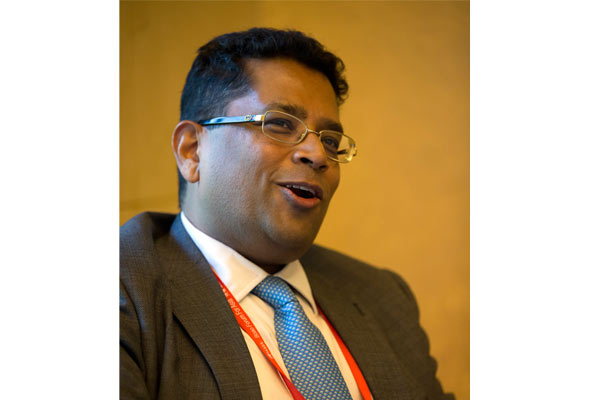 Girish Ramachandran, Asia-Pacific president of Tata Consultancy Services.
China's rapid strides in digital technologies have indirectly inspired India to digitise its economy, said Girish Ramachandran, Asia-Pacific president of Tata Consultancy Services, the country's largest IT player.
In mobile payments and artificial intelligence, China is already leading and has shared its expertise with its neighbors, he said.
The Belt and Road Initiative will help China bring some of its world-class technologies to economies along the trading routes, he said.
"The initiative is a great opportunity for global trade, and to build connectivity," said Ramachandran.
Chinese technologies are making inroads in India, exemplified by the export of Ant Financial Services Group's wireless payment solutions to Paytm. The two signed an agreement in 2015 to create an Alipay clone in India.
India, like China, does not have an entrenched credit card culture. So with the right technologies and business models, jumping from cash to mobile payment is not difficult, he said.
Today, Paytm covers 150 million users in India and enables people to complete a variety of purchases and access micro loans with a scan of their phones.
"The demonetization accords with the Indian government's push to combat the black market, increase transparency and digitize the economy. Clearly China has played a significant role in this," he said.
From the all-in-one app WeChat, to some of the nascent artificial intelligence startups, Ramachandran said China has exhibited huge potential in the global high-tech race. It is now time for China to properly brand these technologies and make them available overseas.
"Most of the apps, technologies and services are being used in China only. Turning them into world-renowned brands would pave the way for China's next phase of growth," he said, adding that the Belt and Road Initiative would certainly drive that goal.
China's high-tech giants have already entered the South Asian market. Tencent Cloud, the cloud business division of Tencent Holdings Limited, has established overseas services nodes in India and a data center in Singapore to provide "secure and cost efficient" IT infrastructure.
UCWeb Inc, a subsidiary of Alibaba Group Holding Ltd, announced the launch of a We-Media Reward Plan 2.0 in India to encourage and sponsor self publishers and content distribution through the internet.