Sharing puts bikes back on the street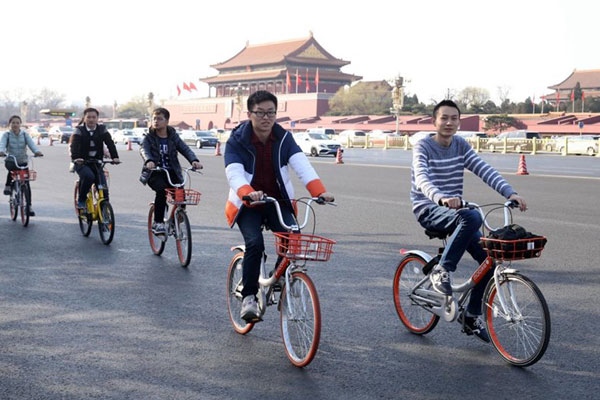 People ride shared bikes along the Chang'an Avenue of Beijing on March 10, 2017. [Photo/People's Daily Online]
The bike-sharing boom offers urban residents a new option for short journeys in cities and is expected to further promote healthy urban development, according to a report issued on Wednesday.
The report, issued by Beijing Mobike Technology Co Ltd and Beijing Tsinghua Tongheng Urban Planning and Design Institute, found that shared bikes had reinvigorated the nation's love for bikes as more Chinese people will opt for bikes rather than cars to make short urban journeys.
A survey of about 100,000 residents in 36 cities reported a 55 percent decline in their trips by car and a 53 percent decrease in their trips via unlicensed motorcycles after they started using shared bikes.
Wang Peng, deputy chief engineer of the innovation center for technology at Tsinghua Tongheng, said that since the debut of shared bikes, people have made less trips by car.
"Previously, trips made by cars accounted for 29.8 percent of the total trips inside the city, while only 5.5 percent of trips were made by bike. Following the booming bike-sharing trend, the proportion of trips by car dropped to 26.6 percent and the proportion of bike rides doubled to 11.6 percent (both privately owned and shared bikes)."
The enthusiasm for high-tech shared bikes is not exclusively among young people. Data from Mobike showed that retired men, usually over 60, traveled the longest distances.
The majority of Mobike users are those born in the 1970s, 1980s and 1990s, accounting for 70 percent of the total users.
People in Shenzhen top all cities in the number of rides during the period from midnight to early morning. And Shanghai has the largest number of people using shared bikes to travel to work.
Experts said the bike-sharing sector will help improve the overall urban environment.
The emerging bike-sharing boom not only alleviates the traffic congestion in cities, but will also help to make more effective use of urban space, Wang said.
"Taking Beijing as an example, the parking space for a normal-sized car can fit 10 bikes. If more people choose shared bikes, an area equivalent to the size of five Bird's Nest stadiums would be saved."