China's bike-sharing firms test the waters in US market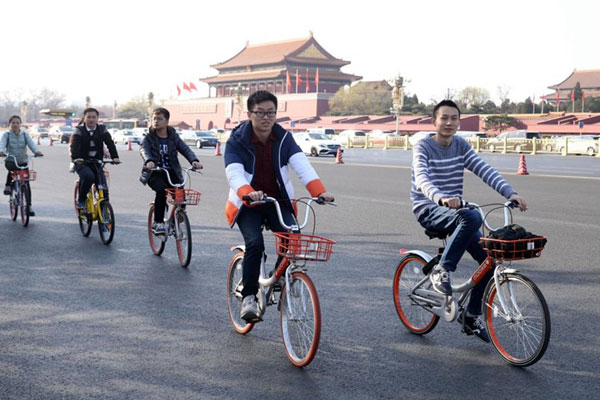 People ride shared bikes along the Chang'an Avenue of Beijing on March 10, 2017. Beijing claims to have over 200,000 shared bikes. [Photo/People's Daily Online]
China's emerging bike-sharing operators have begun to test the waters in several US states, demonstrating China's innovative ability to the citizens in the country half a world away.
In China, once called a "bicycle kingdom", shared bikes have become the newest battlefield for global capital, with large amounts of investment flowing into the billing-on-time bike-rental mobile applications.
Major service providers of this emerging industry are currently seeking to expand overseas market for scale effect.
According to a Wall Street Journal report, Bluegogo, a Beijing-headquartered bike-sharing start-up, has raised $58 million in a funding round.
It is now testing water in San Francisco, California by offering 200 blue bikes in the city. Bluegogo said that the company is currently negotiating on market access with another 5 cities.
In addition, ofo, the company behind the yellow two-wheelers, and orange-hued Mobike have also made forays into the US.
Both of the two Beijing-based companies displayed their products on the "South by Southwest" exhibition held in Austin, Texas this March.
Many Chinese people living in North America are excited about the news, saying a chance to try Mobike has finally come. They hope the service could enter their cities as soon as possible.
Ofo noted that their participation in the exhibition was aimed at expanding the business in the US market. As early as last December, the company announced a plan to start a trial operation in Silicon Valley and other US cities.
Apple CEO Tim Cook, on March 21, paid a visit to ofo headquarters in Zhongguancun, a technology hub in Beijing. Claiming himself to be a cycling lover, Cook rode a yellow bike, saying the startup has changed the public's transportation way.
Ofo has 5 million daily active users and sees over 10 million orders in one day, said the company's CEO Dai Wei, adding that the yellow bikes are now available in Singapore, the UK and the US markets.
The brilliant idea of the shared bikes originated in China, according to Cook. It is reported that ofo hopes to ship about 50,000 bikes in around 10 US cities by July this year.
Mobike's orange-hued bicycles have become a staple of Chinese sidewalks since it started formal operations last year. According to a Bloomberg report, Mobike has attracted hundreds of millions of dollars from backers including Tencent Holdings Ltd., TPG Capital, Temasek Holdings and Foxconn Technology Group.
The startup officially started services in Singapore on March 21, its first overseas destination.