Mainland turns top fintech destination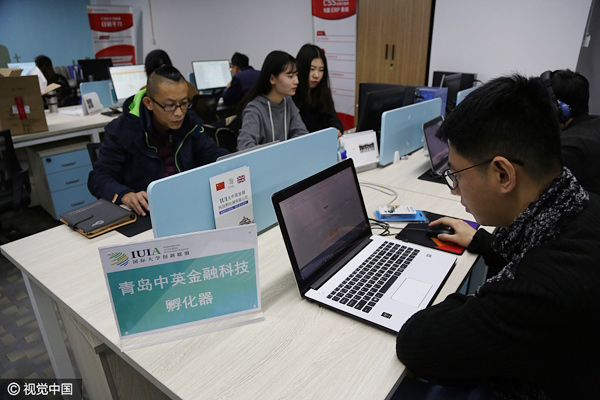 Staff members work at a fintech incubator in Qingdao, Shandong province, March 28, 2017. [Photo/VCG]
The Chinese mainland overtook the United States as the No 1 investment destination in financial technology or fintech, according to Citi GPS, a research team under Citigroup.
According to a Citi GPS research report, in the first three quarters of 2016 the mainland accounted for over 50 percent of the world's total fintech investments.
In fact, the Chinese mainland was the only major place where fintech investments showed a major increase last year-doubling in the first nine months versus the same period in 2015, whilst investments in the US and Europe declined 38 percent and 27 percent respectively.
In a separate report by consultancy firm Accenture, global fintech business venture firms grew 10 percent last year to $23.2 billion, fueled by huge investor appetite in the Chinese mainland and Japan.
Experts attributed the skyrocketing Chinese fintech investments to a unique combination of factors including a rapid spread in digital technologies with a simultaneous rise in its mass middle classes, along with the fact that the old banking industry was poorly prepared for the new technologies.
"To push the development of fintech, you need entrepreneurs and funding," said Ronit Ghose, head of the Citi GPS research team.
The Chinese mainland has a much larger base of entrepreneurism than Hong Kong, Singapore or Europe, even though its venture capital system is yet to become well-developed, he noted.
For years, mainland banks focused only on large corporate clients, such as State-owned enterprises and property developers, with the growing digitally-enabled middle classes being underserved. Fintech has now grabbed that client base, he said.
But Ghose also pointed out that investments from the mainland fintech industry last year seemed still to be concentrated on only big companies, such as JD Finance and Lu.com, squeezing out opportunities for small and medium-sized enterprises.
"One potential risk for China's fintech market is the lack of diversity," he said. So the government should encourage diversity in the fintech sector to ensure the industry's healthy development, he added.
Banks are fighting back by arming themselves with fintech. Since November, the Bank of China (Hong Kong) has been working on the utilization of blockchain, artificial intelligence, big data analysis and vein recognition technology in its banking business.
Rocky Cheng Chung Ngam, general manager at the information technology department at the bank, said there was big competition between the banks and third-party payment companies.
He said internet companies, such as third-party payment companies, had developed a very large client base because they were more closely linked with the clients in their daily life. Some third-party payment companies have grown into financial empires, such as Tencent's online banking affiliate WeBank.