Oppo wins Indian cricket deal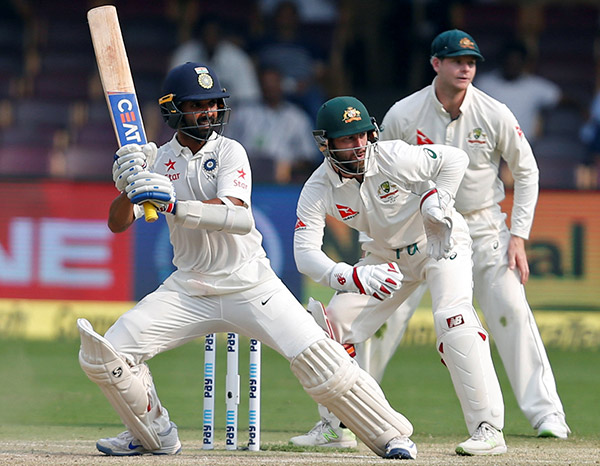 India's Ajinkya Rahane plays a shot. [Photo/Agencies]
Chinese smartphone manufacturer Oppo Electronics Corp has won a five-year deal to sponsor the Indian national cricket team for $160 million.
The Board of Control for Cricket in India confirmed Oppo as its new sponsor, which will replace broadcasting giant Star India, whose contract ends on March 31.
The five-year rights period starts on April 1 and continues until March 31, 2022, during which the team will play 14 home series and 20 overseas series. This also includes the ICC Champions Trophy, ICC Cricket World Cup and the World T20 events, the statement said.
The new deal means the jerseys of India's senior team, Under-19 team, India-A team, India's men and women teams will have the commercial logo of Oppo written on them.
Sky Lee, global vice-president and president of Oppo Mobiles India Pvt Ltd, said Oppo aimed at reaching new heights through cooperation with the Indian cricket team.
Lee said: "Cricket in India isn't just a sport, it is also a way of life, a culture, even a religion."
The Guangdong-based smartphone vendor has stepped up efforts to expand into the Indian market.
In December, it said it will invest 1.5 billion yuan ($216 million) to build an industrial park in India, with a goal of making 100 million units per year.
James Yan, research director at Counterpoint Technology Market Research, said: "Oppo hopes to expand its brand awareness and influence in more cities in India by virtue of sports events."
Yan added the company has occupied the high-end smartphone market in India's more prosperous cities, with an expectation to obtain more medium and low-end users.
Other Chinese phone brands are making efforts to gain traction in India's rapidly growing smartphone market. Vivo Mobile Communication Technology Co is sponsoring the Indian Premier League, the most-watched cricket tournament in India.
Chinese brands captured 46 percent of the Indian smartphone market in the fourth quarter of last year, according to Counterpoint.