China outpaces US on mobile payments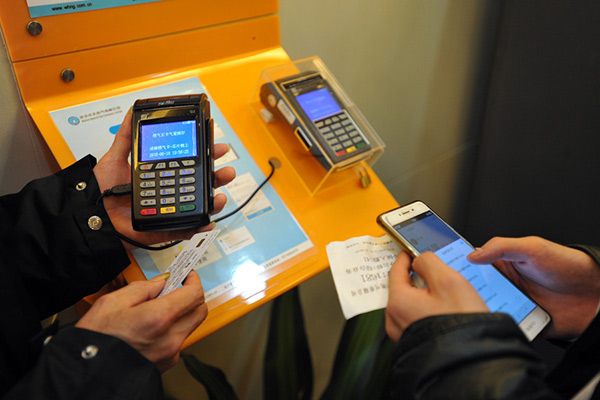 Local residents use smartphones to pay for the gas bill in Wuhan, Hubei province, Nov 21, 2016. [Photo/VCG]
Payments made on Chinese smartphones are nearly 50 times greater than the number of mobile transactions in the United States, signaling a late-mover advantage with robust potential for the fintech sector, the Financial Times reported on Tuesday.
The value of third-party mobile payments more than tripled to 38 trillion yuan ($5.5 trillion) in China last year according to estimates by consultants iResearch, while Forrester Research reported a 39 percent increase to $112 billion in the United States.
The rise of Chinese mobile payments has been driven by the explosive growth of online shopping as well as internet financial services such as peer-to-peer lending and readily-accessible money market funds, the newspaper reported.
Online sales surged 26.2 percent to 5.2 trillion yuan in 2016, according to the National Bureau of Statistics. Over half of Chinese mutual funds are now sold online, up from only 5 percent in 2012.
Last year was a turning point for online payments, the newspaper pointed out, as their presence at physical retailers became ubiquitous. Customers can choose to pay with their mobiles at Starbucks, Ikea or even breakfast stalls and manicure shops.
While Alipay and WeChat Wallet, the payment arms of the country's tech giant Alibaba and Tencent respectively, play dominant roles, the US market is split between Apple, Google, Samsung and Paypal.
A shorter history of credit card usage and relatively low penetration contributes to China's thriving mobile payments, according to the newspaper. Compared to cumbersome online payments with debit cards, payment via Alipay or WeChat only requires the scanning of a QR code from a retailer's point-of-service terminal or a smartphone.
The dominance of the country's mobile payments market also gives Alibaba and Tencent access to valuable user data that can be used in credit ratings as well as targeted advertising, the newspaper said.