Mobile wallets becoming way of life: Study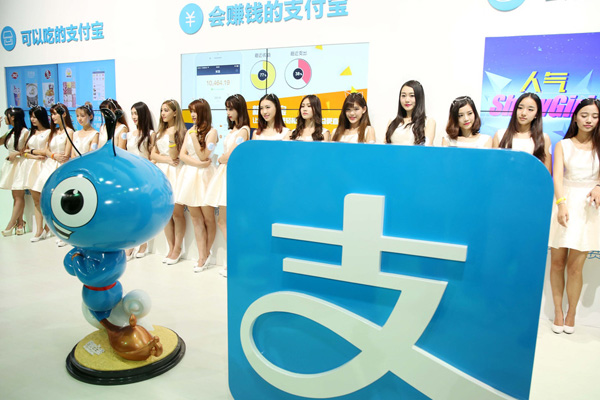 Showgirls pose at the stand of Alipay of Alibaba Group during the 13th China Digital Entertainment Expo, also known as ChinaJoy 2015, in Shanghai,on Jul 31, 2015. [Photo/IC]
Mobile wallets have grown into a lifestyle choice embedded into daily activities and interactions, as more Chinese embrace third-party services to pay back credit cards and run errands, a latest study has found.
Alipay users from five municipalities and provinces made average transactions of more than 100,000 yuan ($14,400) via Alipay last year, the country's top online payment provider said on Wednesday.
Users in Shanghai topped the ranking with average spending of 148,000 yuan in 2016, 1.5 times that of 2015.
In terms of total transaction volume, Guangdong province grabbed the top spot by claiming 16 percent of the payment pie nationwide.
The study also found that mobile gadgets have become the mainstream vehicle for payment. In 2016, about 71 percent of all transactions conducted via Alipay went through mobile devices, up from 65 percent from the previous year.
Digital wallets have gained tremendous popularity in inland provinces, the firm said, where residents rely exclusively on their smartphones and mobile carrier coverage to access the internet.
For example, 90 percent of Alipay transactions were conducted on mobile devices in the Tibet autonomous region and 88 percent in Qinghai and Gansu provinces.
According to Worldpay's 2016 Global Payments Report, Alipay accounts for 44 percent of global mobile wallet spending and is on pace to reach 60 percent by 2020.
It also gained steam by integrating its payment functions into public service platforms. With a few taps on the app, its 450 million users can pay utility bills, settle traffic ticket fine payments and make medical appointments.
Online access to these services is made available in 357 cities in China. Such services were accessed over 1 billion times last year, up 218 percent from the end of 2015.
Chinese people are increasingly willing to make purchases with borrowed money. Powered by a credit-scoring service from Alipay's parent Ant Financial Services Group, some 2.3 billion transactions on Alipay were made with loan service Ant Check Later, up 344 percent year-on-year. Around 40 percent of Ant Check Later users were born in the 1990s.
Chinese payment tools have become an essential part of consumers' day-to-day lifestyle, years ahead of their Western counterparts, said senior IT analyst Yang Yaqiong from consultancy Analysys.