Big increase in users going online via mobile phones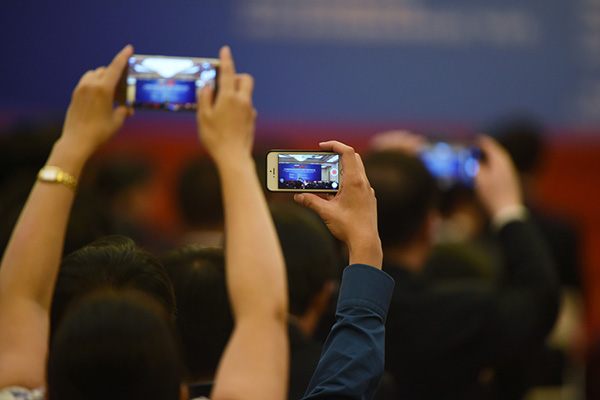 In this picture taken on June 25, 2016, guests use smartphones to take photos at a ceremony featuring Russian President Vladimir Putin and Chinese President Xi Jinping (both not pictured) at the Great Hall of the People in Beijing.[Photo/VCG]
As China becomes the world's largest smartphone market, more users are now accessing the internet through smartphones, according to a report released on Tuesday.
The annual China Internet Development Report for 2016, released by Chinese data analysis software provider Gridsum Holding Inc, shows that the growth rate of internet access via mobile phones increased to 20.4 percent in China in 2016, compared to 9.9 percent in 2015. While the internet access via PCs dropped 19.2 percent in China last year.
According to the report, Apple took the top spot for internet access in China for 2016, followed by Huawei and Samsung.
Xu Ying, director at the data center of Gridsum, said: "It is of great significance for new media content operators to know the exact time when consumers surf the internet most during a whole day."
Xu said most Chinese PC users access the internet around 10 am and 3 pm, while most mobile users go online around 9 pm.
Another report by the Internet Society of China noted that the number of smartphone-based mobile internet users in China reached 780 million in 2016, accounting for 57 percent of the population.