Xiaomi launches smartphone with own chip Pengpai S1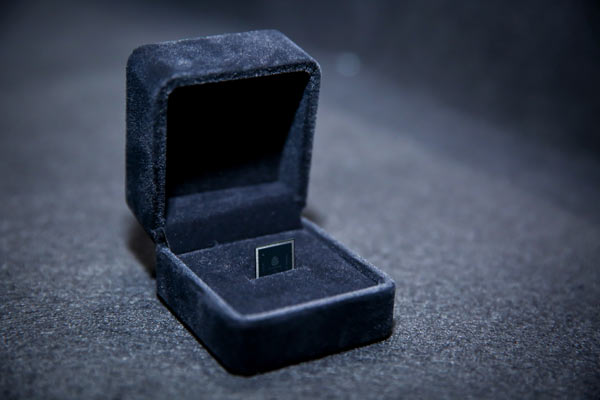 The chip wholly developed by Xiaomi's subsidiary Pine Cone Electronics is displayed in Beijing, on Feb 28, 2017. [Photo provided to chinadaily.com.cn]
Chinese tech firm Xiaomi launched a chip wholly developed by its subsidiary Pine Cone Electronics, and a version of its flagship device, the Mi 5c, which is powered by this chip, the Pengpai S1, in Beijing on Tuesday.
Lei Jun, founder of Xiaomi, said the chip, developed under the goal of keeping a balance between performance and energy consumption, took over 28 months. This was much shorter than other chips, as the company, as a smartphone vendor, could develop the chip while also developing end products, he added.
Generally it takes $1 billion and over 10 years to develop a chip, as the fingernail-size part, which integrates more than 1 billion components, is very complicated.
But the company decided to develop its own chip and saw it as a necessity for a smartphone vendor, with the ambition to be the champion in the sector, to own key parts such as the chip.
He disclosed that the company started R&D on key technologies on the chip, the screen, the camera, the battery, the connector and artificial intelligence in recent years.
During the process, the 7-year-old company was granted 3,612 patents, among which 1,767 pieces were granted overseas. Lei added that the company has applied for more than 16,000 patents. It generally takes two to three years for a patent to be granted.
"We named Pine Cone's first chip Peipai S1, to show our full excitement when we saw it could make a phone call on Sept 24, 2015, and light the screen on Sept 26, 2015."
Xiaomi became the fourth company in the world to manufacture the whole smartphone plus the chip after Apple, Samsung and Huawei.
Lei said technological innovation will help Xiaomi remain the "coolest company" to its Mi fans.
However, Jin Di, research manager at IDC China, said the newly released chip is a big milestone for Xiaomi itself and can showcase its strong R&D capacity, but it is hard for the chip Pengpai S1 to be labeled as a technological breakthrough, as the chip industry worldwide is rather mature.
Jin said that because huge amounts of money might have been needed in R&D in the early stages, the chip might not affect Xiaomi's profitability in the short term, but it is unpredictable in the long run.
But Xiaomi's capacity in chip-making will surely facilitate its advancement in the smart home sector, she added.
Lei said that his company is not launching a chip that only exists in planning but is one that has entered mass production.
The Mi 5c will be available as of March 3, at a price tag of 1,499 yuan.