Xiaomi targets $14.5b in revenue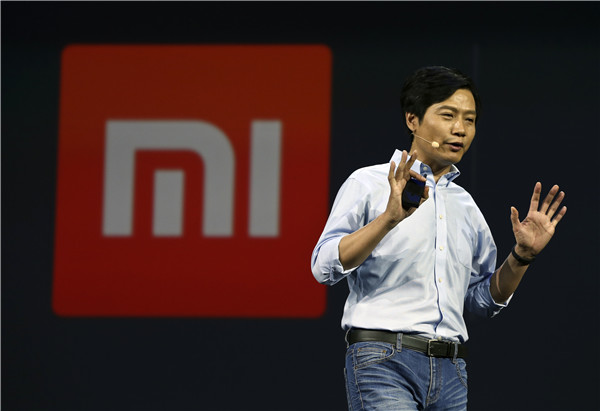 Lei Jun, founder and CEO of Xiaomi Corp, speaks at the company's new product release ceremony in Beijing, May 10, 2016. [Photo by Feng Yongbin/For China Daily]
Xiaomi Corp, one of China's most valuable technology startups, is shooting for more than 100 billion yuan ($14.5 billion) of revenue in 2017 while expanding its global business and deepening research into artificial intelligence and online finance.
Billionaire co-founder Lei Jun laid out his goals for the year at an employee gathering on Thursday, at which he also said the company will explore new ways to sell smartphones and other products, Xiaomi marketing executive Zico Lau wrote on his verified WeChat messaging account.
Xiaomi was last valued at $45 billion in 2014, when it drew comparisons to Apple Inc after doubling revenue that year and climbing to the top of the Chinese smartphone market. But the company missed its 2015 shipments target and has since fallen behind local rivals OPPO and Huawei Technologies Co at home.
Lei had set a target of 100 billion yuan for 2015 but the closely held company hasn't disclosed its revenue performance since.
"Our little target in 2017 is for revenue to surpass 100 billion yuan," Lei wrote. "Our core strategy will be technological breakthroughs, new retail models, internationalization, smart workers and internet finance."
Xiaomi secured $1.1 billion in 2014 from investors including GIC Pte, All-Stars Investment Ltd and DST. The company is now counting on India to provide the next leg of growth: sales there surpassed $1 billion in 2016.
Bloomberg