Chinese smartphone producer Xiaomi launches Indonesian version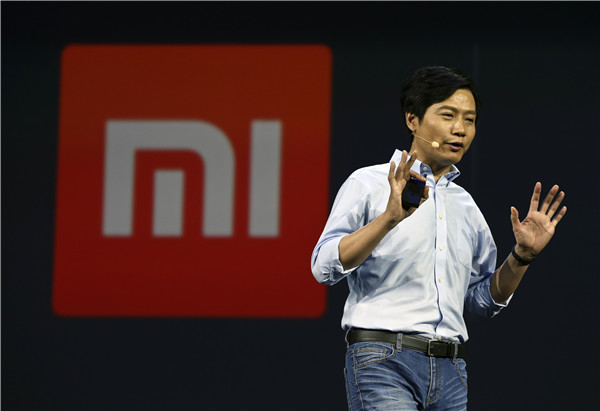 Lei Jun, founder and CEO of Xiaomi Corp, is pictured at the company's new product release ceremony in Beijing, May 10, 2016. [Photo by Feng Yongbin/China Daily]
JAKARTA - Chinese prominent smartphone producer Xiaomi Corp initiated the production at its Indonesian plant, aimed at complying with Indonesia's local content adoption obligation.
Xiaomi's Indonesian production was declared in an event themed "We are made in Indonesia" held in a lavish hotel here on Friday, attended by the firm's executives, senior government officials and Chinese ambassador to Indonesia Xie Feng.
Operating its production facility located in Indonesia's Batam industrial zone, Xiaomi embraces local partners that comprised of Erajaya Swasembada, Sat Nusapersaada and TSM Technologies.
Addressing the event, Wang Xiang, senior vice-president of Xiaomi, said initializing its production in Indonesia is a proof of the importance of the Indonesian market to Xiaomi.
"We learn huge potentials for growth in Indonesia. It would be an honor for us to take part during the period that would encourage Indonesia in entering new phase in smartphone industry," he said.
Xiaomi initially entered Indonesian smartphone market in 2014 with Redmi 1S model. It consequently launched more advanced models offered in affordable prices to tap fortune the lucrative smartphone market in Indonesia.
To support its booming sales Xiaomi also opened its service center in Indonesia.
The smartphone model designated to be produced in its Indonesian plant is Xiaomi Redmi 4A. The gadget is fitted with Qualcomm Snapdragon 425, 4G dual SIM card and 3120 mAh battery, allowing the device to have longer active time up to seven hours.
The smartphone would be offered at 1,499,000 rupiah ($113) for Indonesian market with sales scheduled to commence by the end of this month.
Ambassador Xie Feng said the initialization of Xiaomi's Indonesian version represents a new stage in China-Indonesia cooperation, namely a transition from traditional trade and project contracting to investment, technological transfer, personnel training and joint production.
"Once again, it proves the commitment of Chinese enterprises to localization and readiness to grow together with the Indonesian society," the ambassador said in his remarks.
He added that Xiaomi has demonstrated a fine example of Chinese manufacturing in the global market. Its smartphone market share currently ranks the fourth in Indonesia.
"It shows that Indonesian customers not only recognize Xiaomi's quality and service as well as Chinese manufacturing but also have high expectation and confidence in our bilateral cooperation," he added.
According to the ambassador, Xiaomi is among the nearly 1,000 Chinese enterprises investing in Indonesia, bringing their capital, technology and advanced managerial expertise, which help boost local revenue and employment and strengthen Indonesia's economic growth.
Indonesia, the largest economy in Southeast Asia region, has a growing number of internet users which mostly accessed through smartphones.
According to the results of a 2016 survey, 132.7 million from 256.2 million of population actively accessed the internet in Indonesia. That figure was 51.8 percent higher than in 2014.
Of that internet user figure, 63.1 million ones, or 47.6 percent, used smartphones to access internet.
According to an official data, Indonesia has vibrant smartphone market with annual sales estimated at 35 million ones nationwide.