LeEco talks 'to give up' soccer rights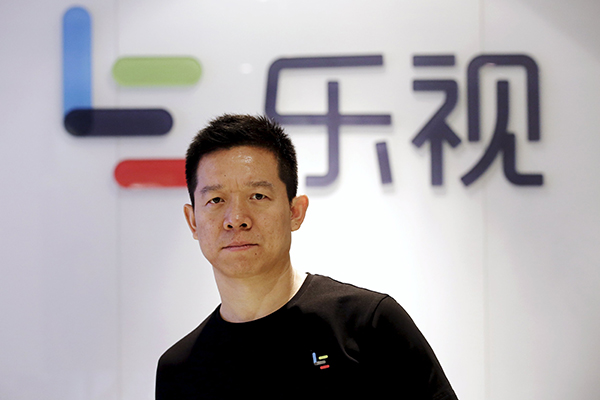 Jia Yueting, CEO and founder of LeEco poses for a photo in front of a logo of his company at LeEco headquarters in Beijing, April 22, 2016. [Photo/Agencies]
Move latest in efforts to reduce pressure on cash-strapped group
Chinese internet major LeEco is reportedly in talks to give up the exclusive online broadcasting rights to the country's top soccer competition, as the cash-starved company continues work on recovering its financial position.
The group's LeSports unit is in discussions to abandon the broadcasting rights for the Chinese Super League's 2017 season, local media outlet The Paper reported on Thursday.
Last February LeSports signed a strategic partnership agreement with events broadcast firm Ti'ao Power, for the Chinese Super League.
LeSports said it would spend 2.7 billion yuan ($414 million) on the two-season exclusive rights, but after testing the waters for a year it realized the deal would not bring sufficient profits in the short term, The Paper quoted an anonymous source as saying.
LeSports on Thursday declined to comment.
Earlier this week, LeEco announced it had organized a fresh capital injection. That was after Chinese electronics firm Truly Electronics agreed to acquire a 2.3 percent stake in LeEco Zhixin Electronic Technology Co Ltd, a smart TV unit in LeEco, for 720 million yuan.
After the deal, LeEco remained the biggest shareholder with a 39.4 percent stake.
The decreased interest in the Chinese Super League indicated that the latest investment infusion was still not enough to support LeEco's huge ambitions, said Lu Zhenwang, CEO of the Shanghai-based Wanqing Consultancy.
"It is throttling back on a slew of its business plans. But these moves have failed to give a big boost to LeEco's stock price," Lu said.
Started in 2004, LeEco's businesses range from video streaming, smartphones, TV, internet financing to cloud computing.
But it has been facing a cash crunch since last November after its founder, Jia Yueting, admitted in public that the company's expansion efforts had gone too far.
In January, LeEco raised $2.2 billion from Sunac China Holdings Ltd, a Hong Kong-listed real property developer, in a move to head off its financial woes.
Shen Meng, director of Chanson & Co, a boutique investment bank, said Truly Electronics was a key supplier of electronic components to LeEco.