LeEco plans to target high-value added customers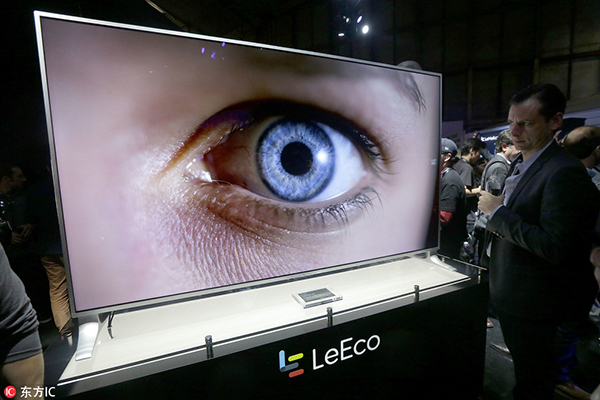 LeEco's new 85 inch television is unveiled at the press event in San Francisco, Oct 19, 2016. [Photo/IC]
Chinese internet major LeEco said on Tuesday that its TV business will open content and platform resources to more third-party partners, with an expectation that its revenue from non-hardware will reach over 20 billion yuan ($2.9 billion) in the next three years.
LeEco announced the 2017 to 2019 strategy for its large-screen TV business, emphasizing it will continue to target high-value users, stick to its "open eco" concept and use the US market as the base of global operations.
The company said it aims to gain a big profit and have the largest number of Chinese high-value users, aiming to be first in annual sales in the Chinese market and to have revenue from non-hardware surpassing 20 billion yuan.
LeEco will cooperate with China International Broadcasting Network (CIBN), the online TV service of China Radio International and media company Wasu Media Holdings Co Ltd, as well as open its content portal and cloud operations and marketing platforms to third-party content providers.
"We hope to carry out in-depth cooperation with third party partners in our vertical closed-loop ecosystem to create a consistent user experience and higher commercial value," said Liang Jun, president of LeTV Zhixin Electronic Technology (Tianjin) Co Ltd, which is responsible for LeEco's TV business.
Founded in 2004, LeEco started as a video-streaming site and achieved a rapid rise by selling internet-enabled devices that are bundled with video content.
The company also launched its 85-inch flagship TV uMax85 in China, priced at 39,999 yuan, and an upgraded 65-inch TV X65S, TV box and wireless home audio products.
Statistics from market research company Nielsen-CCData show that 94 percent of LeEco'sTV users are 20 to 45 years old, 86 percent of its users come from two-member and larger families and 58 percent of the users' salaries are over 10,000 yuan per month.
Moreover, LeEco said 66 percent of its TV users come from first- and second-tier cities, with 39 percent concentrated in the southeast costal area, which has higher commercial value.
In July, LeEco spent $2 billion to acquire Vizio Inc, a major US television manufacturer. This move is expected to give LeEco about 20 million large-screen users.
Zhang Yanbin, assistant director of All View Cloud, a Beijing-based consultancy specializing in home appliances, said that after reviewing its overly rapid growth, the company has become more centered on its key and advantageous areas, such as the TV sector.