Tencent launches WeChat 'mini apps'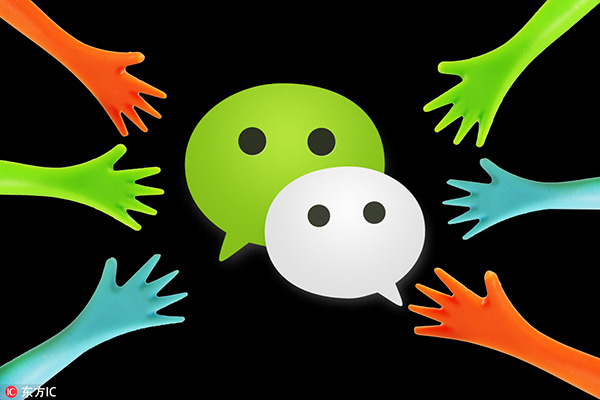 Chinese people check their WeChat 14.5 times on average and spend 48 minutes on social media per day. [Photo/IC]
Chinese internet giant Tencent Holdings Ltd launched "mini apps" on Monday, which let users interact with app-like services within its instant messaging app WeChat, without having to download and install them.
Users just need to scan the QR code or search from their WeChat accounts to open these apps, where they could book tickets or do shopping, Tencent said.
They can exit the apps easily without downloading them, these apps won't disturb users, such as by sending notifications and subscription messages, according to Tencent.
This is an important step in Tencent's commercialization of its messaging service. WeChat now has 846 million users worldwide, according to Tencent's fiscal 2016 third-quarter earnings report.
Lu Zhenwang, CEO of Shanghai-based Wanqing Consultancy, said: "The launch of mini apps can solve some of the problems caused by apps, but it won't take the place of AppStore or Android Market."
"Some 'lightweight' apps, which possess fewer functions and more simple algorithms, and apps that are not commonly used, are more suitable as WeChat's mini apps. However, the commonly used ones should still be downloaded to your phone," Lu added.
Dong Xu, an analyst with Beijing-based consultancy Analysis, said: "With the mini apps, users could find and use them whenever they need, and won't receive any advertising when they stop using them."
The aim is to ensure users spend more time on WeChat and extend Tencent's lead as an app vendor. Mobile app developers are vying for users in the fiercely competitive and lucrative market.
Chinese people check their WeChat 14.5 times on average and spend 48 minutes on social media per day, according to a report released by Chinese tech startup Kika.
Wang Qian, an employee of an IT company, has tried the "mini apps" since they were launched on Monday.
"The design of these apps is very clear, and will increase the utilization rate of the WeChat wallet. Maybe it could replace some apps, but I still prefer to download apps from my app store."