Apple accused of patent infringement in China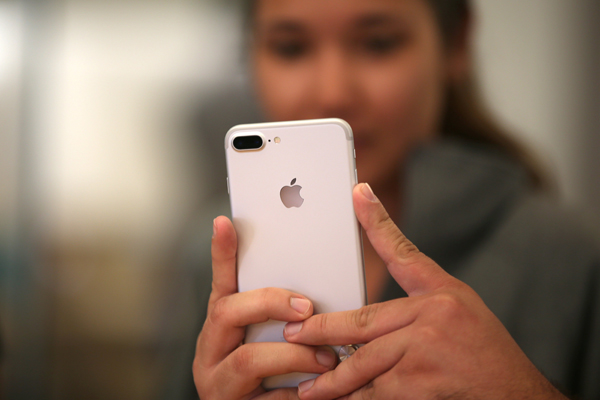 A customer views the new iPhone 7 smartphone inside an Apple Inc store in Los Angeles, California, September 16, 2016. [Photo/Agencies]
US company GPNE Crop sued Apple Inc for direct infringement of claims on its patent, which was issued in China in 2001, according to a recent report by domestic business newspaper National Business Daily.
The lawsuit accuses "computerized communications devices and computerized tablet devices", known as iPhone and iPad manufactured by Apple, of infringing on patents it owns, and GPNE claims indemnity of 900 million yuan (about $129 million), the highest number of this kind of compensation in the country.
Huang Jingyu, or Gabriel Wong, founder and inventor of the Hawaii-based company told the newspaper that the patent relates to general packet radio service.
As part of the 3G standard for GSM radio frequencies, it allows features such as multimedia messaging, push-to-talk over cellular, always-on Internet access and point-to-point networking.
Huang said the patent has received patent protection rights in 14 countries, including China, USA and Japan.
Before accusing Apple, the company consecutively sued Motorola, Cisco, BlackBerry, Samsung, LG, Sony Ericsson, Sharp, HTC and Huawei in regard to the so called patterns infringements.
Compared to the dispute with Apple, most of the companies have either reached accommodations or signed patent permission agreements.
The litigation started January 28, 2013.
According to the report, during the past four years, Apple has been requested three times to the Patent Reexamination Board of State Intellectual Property Office of China to invalidate the patents that are involved in the case. In September 23, 2014, Apple litigated administrative appeal to the Beijing First Intermediate People's Court.
However, the patterns are still valid as all the litigation requests from Apple have been rejected.
As of the end of last November, the Shenzhen Intermediate People's Court has held hearings three times regarding the case.
So far, Apple has made no comment on the allegations.