China Mobile eyes 1.75b connections by 2020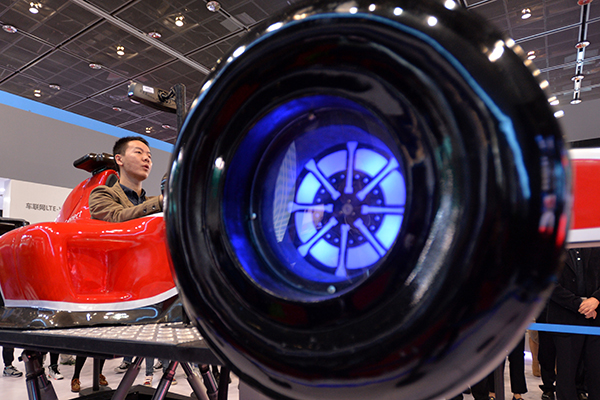 A visitor tries applications of China Mobile Communications Corp at the telecom carrier's booth at the World Internet of Things Expo in Wuxi, Jiangsu province. [Photo/China Daily]
China Mobile Communications Corp, the world's largest telecom carrier by subscribers, aims to enable 1.75 billion connections by 2020, as it is working hard to put home appliances, vehicles and other items online.
Shang Bing, chairman of China Mobile, said on Tuesday China will have at least 10 billion internet-enabled connections by 2020, accounting for one-fifth of global connections.
"We will step up efforts to expand our presence in the connected car sector, as part of our efforts to double the number of connections we had in 2015," he made the comments at the firm's global partners conference in Guangzhou.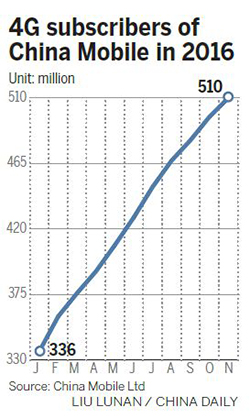 Last year, among 880 million devices China Mobile had connected online, 770 million units of these were smartphones, which are reaching a ceiling point. Internet-connected automobiles will become one of the next key devices for development, the company said.
The move comes as China Mobile is ramping up resources to develop 5G networks, after it built the world's largest 4G network within three years. It plans to put 5G into trial operation in 2018 before commercializing next-generation communication technology in 2020.
"We will not only build connections but also open our platforms to other firms so that we can have an ecosystem," Shang added.
On Tuesday, the firm released technical specifications of its internet of things platform where anyone with an IoT idea can build up his or her product and test whether it is feasible.
Xiang Ligang, a Beijing-based expert and founder of industry website cctime.com, said 5G will no longer be a simple technology or a system. Instead, it is a platform in which the telecom industry needs to be deeply linked with other sectors.
"5G will be a test for China Mobile to see whether it can efficiently cooperate with a large number of firms," he said.
China Mobile's intensified efforts to tap into the internet of things opportunity also came after its once-lucrative voice calls and text business were affected by internet-based messaging services.
It is seeking new revenue sources.
Fu Liang, a telecom analyst, said China Mobile's huge 4G presence and its cutting-edge 5G research will give the company an edge in capitalizing on IoT.
As of the end of November, it has 1.46 million 4G base stations across the country and its 4G subscribers hit 510 million. One of every three 4G users in the world is using services from China Mobile, according to the carrier.
Related Story:
Alibaba strengthens ties with carrier from China Daily by Ma Si
Chinese e-commerce giant Alibaba Group Holding Ltd is likely to work closely with China Mobile Communications Corp on data sharing, mobile payment and rural business, a senior executive from Alibaba said on Tuesday.
Hu Xiaoming, president of Alibaba Cloud, the firm's cloud computing unit, said the partnership between the two firms "is no longer a tie between an internet firm and a telecom carrier. Instead, it is a thriving relationship between two ecosystems".
Hu made the comments at the China Mobile Global Partners Conference in Guangzhou. The two companies inked a deal earlier this month, promising close cooperation in basic telecommunication services, information infrastructure, marketing and emerging sectors.
According to Hu, however, it is possible for Alibaba to open its membership system, which has more than 600 million users, to China Mobile, in exchange for access to the latter's 850 million subscribers.
"Our membership system can be linked with China Mobile's subscriber system, enabling the free flow of data which can help offer better online credit services," he said.
Also, the two sides can make joint efforts to grow business in rural areas, giving China Mobile's sprawling presence in the countryside and Alibaba's ability to promote rural e-commerce.