Satellite navigation network eyes more civilian roles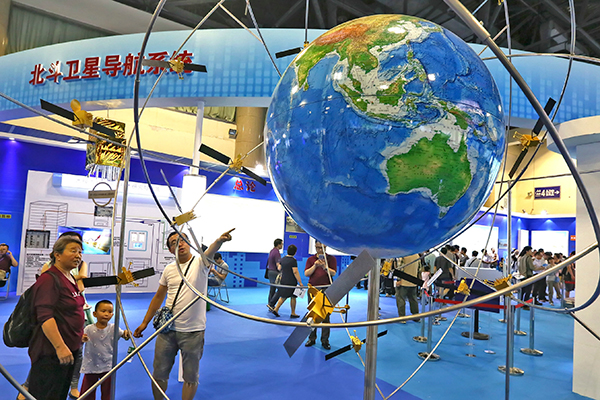 A stand illustrates the Beidou Navigation Satellite System at an expo in Beijing. [Photo provided to China Daily]
The Global Navigation Satellite System and Location-based Services Association of China said on Friday that it plans to expand the civilian applications for the country's self-developed global satellite navigation network - a "sat nav" rival to the US Global Positioning System - called the Beidou Navigation Satellite System, or BDS.
The association said it would hold a series of activities, including demonstrations and conferences, starting January. These will involve industry experts, interested companies and other stakeholders, in a move to seek new business for civilian use of the system's location-based services.
"Now we have already built the system connecting hundreds of cities in China, the next step will be to promote and boost the development of the Beidou's civilian use and to prosper," said Miao Qianjun, secretary-general of association.
The BDS Precise Service System, a joint effort between the association and the China Location Network Services Alliance, can currently provide services in 317 cities in China, with applications including the supply of electric power, water, and intelligent transportation.
The association said the system offered precise positioning, accurate timing and communications services.
Min Yiren, deputy director general of the National Administration of Surveying, Mapping and Geoinformation of China, said that in the information age, the association should support Beidou's development in various industries.
According to the Ministry of Industry and Information Technology, Beidou will be able to provide positioning accuracy of less than 10 meters and a timing accuracy of 20 nanoseconds - making it a potentially strong challenger to the dominant GPS sat nav system developed by the United States.
By the end of 2015, Beidou's market hit 42 billion yuan ($6.03 billion). However, compared with GPS, which accounts for 90 percent of the whole market in the globe, Beidou's market size is still too small.