Meitu shares debut in Hong Kong, falling below IPO price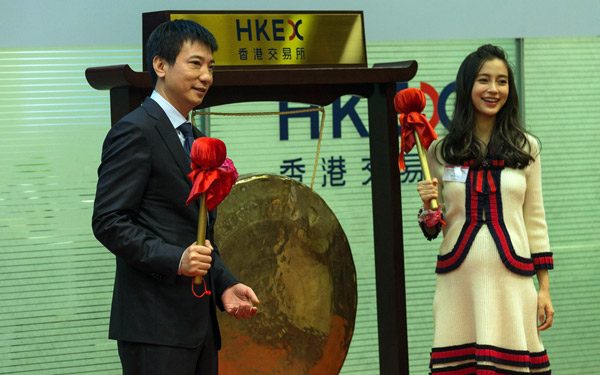 Cai Wensheng, chairman of Meitu Inc (L), and model Angelababy, prepare to bang the gong during the company's listing ceremony at the Hong Kong Exchanges and Clearing Ltd in Hong Kong, December 15, 2016. [Photo/IC]
Chinese selfie application maker Meitu Inc started to trade in Hong Kong today, marking the biggest debut since the start of Shenzhen-Hong Kong Stock Connect.
"After selling shares at HK$8.5 apiece, toward the bottom of the marketed range, Meitu has a valuation of HK$35.9 billion ($4.6 billion)," said Cai Wensheng, chairman of the company in an interview with Bloomberg.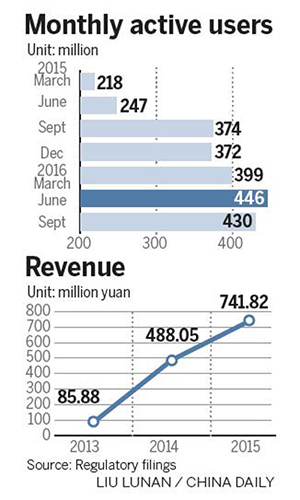 According to bloomberg.com, Cai recently expressed expectations to rake in the benefits of the Shenzhen-Hong Kong Stock Connect, as more individual investors from the Chinese mainland seek alternative investments to diversify their assets in Hong Kong.
The reports also said Meitu is trying to capture more overseas users in the US and Southeast Asia, aiming to generate more money from advertising and e-commerce.
According to Meitu, as of this February, BeautyPlus, one of the latest core products of the company, is ranked as the world's most advanced photo and selfie editing tool used by over 100 million users globally.
Yan Jinliang, chief financial officer of the company spoke to the press before the trading day, saying their more than one billion users of Meitu reserve great business potential. He elaborated that online advertising, live streaming, e-commerce and smartphone sales are the core business models for the company to take advantage of and make a profit from their massive user base.
"By providing an online shopping platform that meets the demand of young generation female users for fashion is a perfect match to our product's properties," said Yan. "We'll launch our e-commerce platform in the first half of next year, and the platform will become the most important approach for us to make profits in the coming three to five years."
"The reason for us to step into e-commerce market is because our customer acquisition cost is relatively low as female are born to be our users, so it's unnecessary for us to spend a lot on brand promoting and advertising," Cai Wensheng added.
Wu Xinhong, co-founder and CEO of the company said that Meitu will simultaneously operate two e-commerce platforms; one is for selling middle and high-end brands and the other is a special platform that provides t-shirts, brochures and mugs painted with customized pictures taken by users.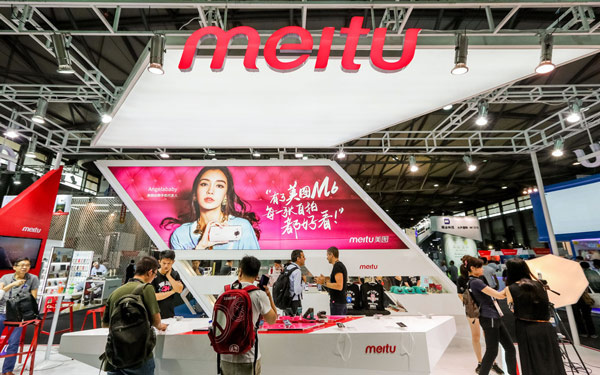 People visit the booth of photo editing and sharing app Meitu during the 2016 Mobile World Congress (MWC) in Shanghai, China, June 29 2016. [Photo/IC]
The company's listing also marks the biggest initial public offering by a technology company in Hong Kong since Chinese tech giant Tencent Holdings Ltd went public in 2004.
The stock link between Shenzhen and Hong Kong started last Monday. Investors can purchase and sell shares on each other's bourses, improving connectivity between the two capital markets.
According to Xinhua News Agency, a total of 417 Hong Kong-listed stocks are eligible for trade, and 881 Shenzhen-listed stocks.
Industrial observers pointed out that the company is struggling to make a profit as it has reached an accumulated deficit for more than 1.1 billion yuan by the end of this June.
"Ninety-five percent of Meitu's revenue depends upon its smartphone that highlighted sefie functions, which is still believed as a segment market with limited demand," the critical voices said.
By 11 am, Meitu's share dropped to $8.41 each, slightly plummeting below its initial public offering price.