Apps ride high on bicycles, may help depollute cities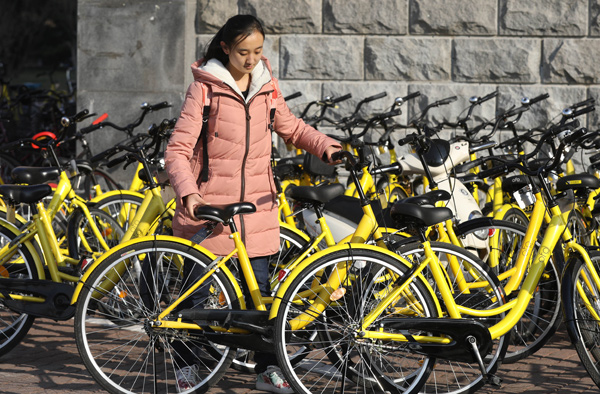 A student uses an ofo bike on the campus of the University of International Business and Economics in Beijing. ZHU XINGXIN / CHINA DAILY
New bike-on-demand services give a new dimension to urban sharing economy
In the 1980s, a bicycle, a radio and a sewing machine were considered as the top three necessities for young, matrimony-bound, love nest-minded Chinese couples.
At the time, China was the "Kingdom of Bicycles"-bikes were key to people's daily transportation.
Now, the country boasts the world's largest automobile market. There are more cars than bicycles on roads.
Yet, ambitious entrepreneurs keep attempting to restore lost glory to bikes. Their strategy, however, is changing.
While continuing to convince every family to own at least one bike, they are also attempting to persuade people to share bikes.
Welcome to bike-on-demand services, the latest segment in China's booming sharing economy. They are not very different from ride-on-demand apps, which changed the way people hail cabs in China.
Sensing potential for a similar success story, venture capital firms are betting big on bike-on-demand apps.
Since August, two Beijing-based startups Mobike, which enables people to rent the nearest available GPS-enabled bike via smartphones, and its rival ofo, have been locked in a race for funding. New investors have poured cash into them every two weeks on average.
Newcomers such as Hello-bike and Ubike are emerging. However, catching up with Mobike and ofo, which also make their own bikes, may prove easier said than done.
For, Mobike's two kinds of signature black-and-orange bikes are already ubiquitous in Beijing, Shanghai, Shenzhen, Guangzhou and Chengdu.
Ofo's shiny yellow bikes are gaining in visibility on university campuses in 18 cities, and all over Beijing, Shanghai, Shenzhen and Guangzhou.
Mobike has so far deployed around 100,000 bikes across the five cities. There are more than 190,000 ofo bikes out there.
Each of its bikes has cost Mobike hundreds of yuan to around 2,000 yuan ($290); for ofo, a bike costs between 200 yuan and 300 yuan, depending on bells and whistles like a vegetable basket in front.
Hu Weiwei, the founder of Mobike, said there is a certain rationale to the investment spree in bike-sharing firms. "People have always had a need for bikes, to cover short distances of less than 5 kilometers. With the development of mobile internet technology, we can now make it happen."
While cab-on-demand services such as Didi Chuxing meet people's demand for quick long-distance rides, bike-sharing firms serve urban citizens seeking to reach a bus stop from home, their office from subway station or a neighborhood vegetable market from apartment.
Li Xiangyu, 20, a sophomore at the Beijing-based University of International Business and Economics, said he instantly took a shine to Mobike after trying out the 1-/2-yuan-per-hour service.
"I ride their bike every time I need to go from the university to the nearest subway station. Unlike the bike-renting services that require users to borrow bikes from (and return them to) certain locations, services like Mobike allow users to borrow and return bikes wherever and whenever they want," said Li.
Because Mobike's bicycles are GPS-enabled, the next borrower will be able to find them using his/her smartphone.
In Mobike's case, after users locate the nearest available bike, they can reach it and book it by scanning its ID, a quick response or QR code.
Payments are done online using apps such as WeChat and Alipay. There is no time limit for a ride.
Li Hao, an analyst with the Beijing-based internet consultancy Analysys, said, "But there will be many bumps ahead, such as how to lower the cost of the high-tech bikes, how to cooperate with local governments.
"And there is no feasible business model yet because bike-on-demand companies are still at the stage of exploring the market."
One possible way to generate additional revenue is to display little advertisements and brand logos on such bikes.
Mobike said it will expand its fleet to more than 200,000 bicycles by 2016-end, if the business grows as expected.