E-commerce gives lifeline to sinking HK retail sector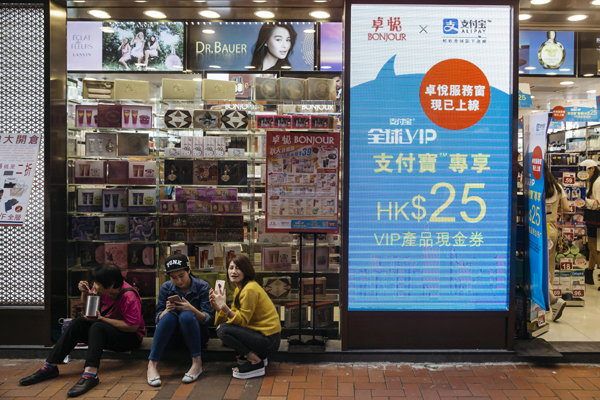 People sit next to an advertisement for Alipay, operated by Ant Financial Services Group, an affiliate of Alibaba Group Holding Ltd, outside a Bonjour Holdings Ltd store in Hong Kong. [Photo / Agencies]
Slumping, hesitant businesses ponder ways to extend offline advantages to online channels
This Singles Day (Nov 11), Chinese mainland online marketplaces such as Taobao and Tmall did something unusual: they extended their popular annual shopping festival to Hong Kong's consumers.
That's just as well, said retail industry experts-because, cross-border e-commerce is, for all practical purposes, a lifeline the drowning local retail sector can clutch to stay afloat.
The sector has been slumping for the last 19 months, forcing desperate industry operators, especially small and medium-sized retailers, to search for new business opportunities.
To be sure, the Hong Kong retail sector's sales have been falling. But, Anson Bailey, head of consumer markets at KPMG in Hong Kong, doesn't believe mainland shoppers, for long the mainstay of local retail sales, have lost interest in Hong Kong.
But he does admit they now have more destinations outside the mainland as alternative shopping options.
Agreed Joseph Yuen, chairman of the Hong Kong Federation of E-Commerce. Cross-border e-commerce, he said, also provides mainland shoppers more shopping options.
Yet, Hong Kong has something going for it. That is, much of goods sold by the mainland's major cross-border e-commerce platforms are sourced from Hong Kong, he said.
So, he believes local retailers should be able to generate new demand via e-commerce, especially from second- and third-tier cities on the Chinese mainland.
It is a view that Thomson Cheng Wai-hun, chairman of the Hong Kong Retail Management Association, concurs with. Cross-border e-commerce is the new opportunity for small- and medium-sized retailers in Hong Kong to reach outside markets, he said. More so because sales growth has been either slowing or falling in recent years.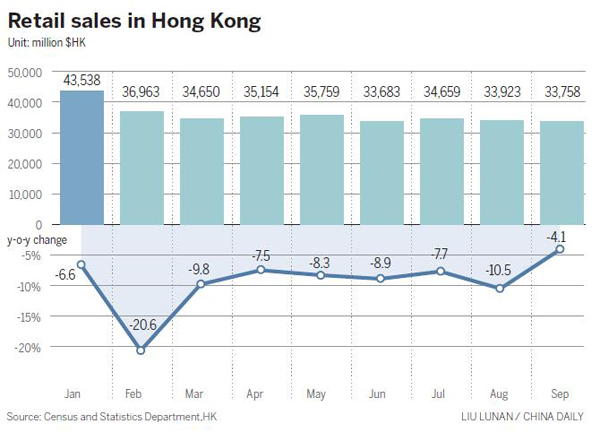 Despite such perceived opportunities online, most retailers in Hong Kong are a hesitant lot these days, said Vincent Lau, assistant manager of Shiu Heung Yuen Bakery, a local food chain store.
Sensing huge potential, Lau has been considering opening an online store for mainland consumers, especially after discovering that some Daigou (overseas shopping agents) are already selling his products on Taobao.
However, he is holding back due to high investment required to make a new online shop successful.
For example, opening a store of nuts and snacks on Taobao is free of charge; but it takes a fee of 100,000 yuan ($14,513) for such a shop to be recognized as a "flagship store", a label that indicates to shoppers that it is an authentic or authorized store for a brand. Without such a label, online business becomes a dicey proposition, he said.
That's not the only fee. Online stores need to shell out 30,000 yuan toward technology fee and 2 percent of sales as service fee to Taobao. The corresponding figures for other non-Alibaba platforms such as JD.com, Suning and Gome are comparable.
But all these fees are worth their cost as Hong Kong brands generally enjoy high equity in sellers' minds, said a retail expert.
Aiming to help small retailers to exploit Hong Kong's advantage in this regard, GS1 Hong Kong, a nonprofit standards organization, this month started to provide a special service.
It will authenticate products and verify information for retailers on Hongkong Post's e-commerce platform ShopThruPost.
Hong Kong brands, merchants and SMEs that join the program will be given a logo on their online shop for consumers to recognize. The annual cost of this service is HK$50 ($6.45) per item and a commission on each product sold.
Jessie Ting Yip Yin-mei, Hong Kong's postmaster-general, said the plan could help SMEs and startups to extend their sales to e-commerce channels with minimum upfront investment.
GS1 said it also plans to cooperate with other online platforms in future.
The Hong Kong Retail Management Association also will launch a "qualified e-shop verification" service for local retailers with authentic products in offline channels, so as to help them to exploit their strengths and succeed online as well.