Outlook bleak for LeEco's Nevada electric vehicle plant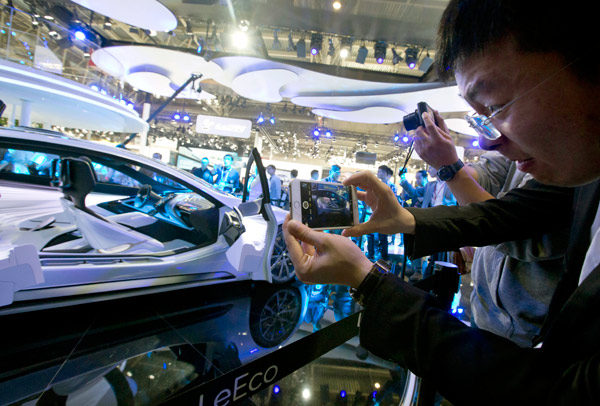 A man takes photos of the self driving all-electric car named LeSee, which is produced by LeEco, at a car expo in Beijing. [Photo / Agencies]
Outlook bleak for LeEco's Nevada electric vehicle plant
The outlook for Chinese internet firm LeEco's electric vehicle factory in the US state of Nevada remains very bleak, although the Beijing-based firm said it is aggressive to raise capital.
A state official showed his concerns about the fate of Faraday Future, the electric carmaker building a $1 billion plant in North Las Vegas, which was backed by LeEco, and the financial strength of LeEco and ability of Jia Yueting, its CEO and founder.
"The projects Jia invested in, including in China, seem very difficult for him personally to realize," Nevada State Treasurer Dan Schwartz said in an interview with China Daily.
"If you look at Leshi (LeEco's listed arm) it has roughly $6 billion in revenue, but it's netting about $50 million. That profit margin is less than 1 percent ... Grocery stores make 2 percent to 3 percent," said Schwartz.
"It's clear Mr Jia doesn't have any money, it's clear that Leshi isn't making money. That's the reason for my concern."
Schwartz said the factory construction stopped earlier last week and he believed the reason was no payment had been received from Faraday Future.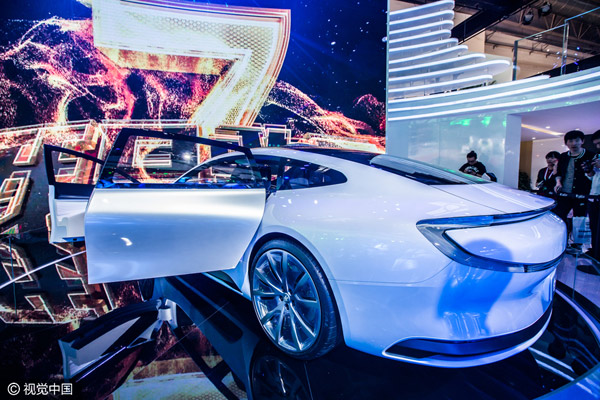 LeEco's self driving all-electric car LeSee is launched in Beijing on April 28, 2016. [Photo/VCG]
However, a statement from Faraday Future last week claimed it never halted work on the Nevada factory, but finished the first phase of construction, with a plan to move into the second phase in February.
"The damage to the state will be fairly minimal, because we haven't issued any bonds. The governor would be very embarrassed, and the economic development agency would be very embarrassed," said Schwartz.
For North Las Vegas, the consequences might be more serious because the city has basically run out of money and they were counting on this project to get them out of this hole, he added.
LeEco did not deny default on construction cost for the FF project, and confirmed the capital isn't available, saying it is now actively raising money.
In August, the company announced it would invest 20 billion yuan ($2.9 billion) to build an auto park in Zhejiang province, to mass-produce electric cars. It said on Monday the project will begin construction by the end of the year.
Shen Meng, director of Chanson & Co, a boutique investment bank in China, said there is still a huge doubt whether LeEco's electric vehicle projects in both Nevada and Zhejiang could realize mass production.
"The company is facing a serious funding gap, and where the over 70-billion-yuan capital raised in the past has gone is still a mystery," said Shen.
Jia admitted earlier this month the firm has problems in supply chain management and capital issues, and pledged to end over-expansion and cash burning.