Apple unveils replacement program to fix iPhone 6s' random shut off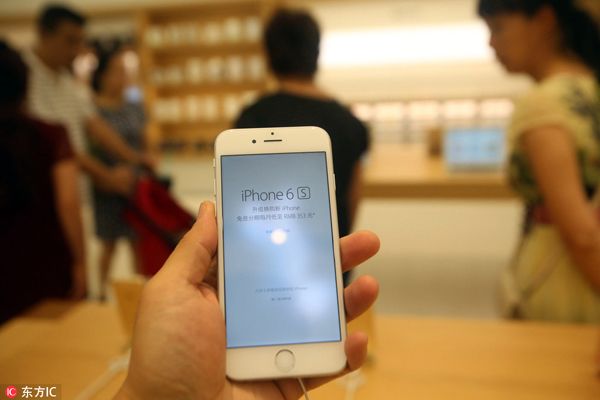 A Chinese customer tries out an iPhone 6s smartphone at an Apple Store in Shanghai, June 21, 2016. [Photo/IC]
Apple Inc introduced a free replacement program on Monday that aims to solve recent reports on the unexpected shut down of its iPhone 6s.
"This is not a safety issue and only affects devices within a limited serial number range that were manufactured between September and October 2015," according to the company's official website.
The company asks users who have experienced unexpected shut down issues to visit an Apple Retail Store or an Apple authorized service provider and have their device's serial number checked to confirm eligibility for a free battery replacement.
"Your iPhone will be examined prior to any service to verify that it is eligible for this program and in working order," Apple said.
Related story: Consumer watchdog targets Apple over iPhone shutdown bug by Liu Jing from chinadaily.com.cn
The China Consumers Association (CCA) has asked Apple to address a sudden shutdown problem associated with its iPhone 6 and iPhone 6s models in China.
According to a statement issued by the consumer protection organization on Tuesday, it has received a considerable number of complaints from users of both devices reporting that the smart phones have been shutting off automatically with 50 to 60 percent battery left. The bug persists after a system upgrade. It is also reported to have occurred in both cold environments and at room temperature. Some users complained that their iPhones, after shutting down involuntarily, failed to turn back on without connecting to a power supply.
"Given that iPhone 6 and iPhone 6s have considerable number of users and the problems have been reported by many, China Consumer Association has issued a query to Apple on the abnormal shutdown problem," the statement reads.
"CCA will follow the issue closely and protect the legal interests of consumers."
According to the organization, the questions raised to Apple include what caused the automatic shutdown, whether there is problem with the batteries, how the company will deal with the complaints and what measures the company will take.
So far, Apple hasn't publicly commented on the matter. CCA says it expects Apple to respond within ten days.