McDonald's hopes tech convenience will help lock-in customers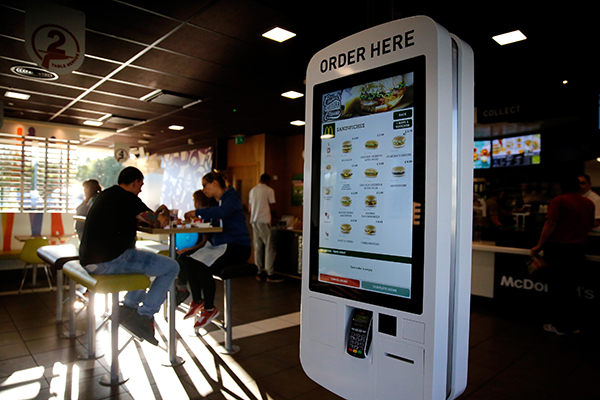 A self-service card payment touch screen panel displays sandwich options inside a McDonald's restaurant in Manchester, the United Kingdom. [Photo/Agencies]
McDonald's Corp, which replaced its CEO last year in the hope of turning around sales, plans to increase its investment in digital endeavors, including self-serve kiosks and a mobile-ordering application.
The investment marks a "very significant acceleration" from current levels, Jim Sappington, executive vice-president of operations and technology systems, said in an interview. He declined to give specific numbers, but said the spending will continue during the next two years and will be booked as capital expenditures and general and administrative costs.
"Enhancing the overall experience is a critical part of us growing our business," he said. "If we're more convenient, our customers are going to be more willing to come to McDonald's."
While the world's largest restaurant chain has managed to revive same-store sales growth, it has lagged behind competitors on the technology front. Starbucks Corp and Dunkin' Donuts boast millions of rewards-program members, while Taco Bell allows diners to order via a mobile app. Those types of programs frequently allow restaurants to lock in customers.
McDonald's has had success since it started all-day breakfasts in the US more than a year ago. But that growth has slowed, and the company may need something new to sustain sales. It also has seen a positive customer response since declaring its chicken antibiotic-free in the US, adding real butter to its breakfast muffins and promising cage-free eggs.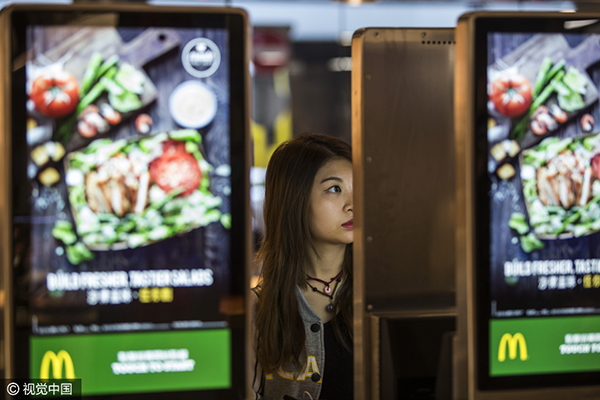 A customer places her order at a touch-screen kiosk inside a McDonald's Corp. Next concept restaurant in Hong Kong, China, on Wednesday, Dec 23, 2015. [Photo/VCG]
A boost in technology may help-the push will be focused on McDonald's 10 largest markets, which include the US, Australia, Canada, France and China.
Next year, McDonald's will begin introducing smartphone ordering and paying to its domestic locations, building on its current app, which mainly features discounts. The Big Mac seller plans to add mobile order-and-pay capabilities to as many as 25,000 of its approximately 36,500 locations globally next year and in 2018.
After ordering, customers will be able to pick up their food curbside in a McDonald's parking lot, or by going through the drive-through. The company is still trying to pick a digital partner to help it deploy the mobile app.
Another focus will be kiosks, digital menu boards, table service and the chain's so-called Experience of the Future, which highlights burger customization. The touch-screens are now in about 7,000 of its restaurants across the globe, heavily concentrated in Europe.
Self-serve kiosks and mobile ordering may ultimately speed up McDonald's service, which has been criticized as being too slow in the past. Customers can build meals at their own pace, taking time to tailor fare, check nutrition facts and compare prices, Sappington said.
"It's very difficult now to ask for something to be added to your double cheeseburger, or ask for no onions," he said. "Doing that through the kiosks, doing that through the app, is very easy, is very natural."
Bloomberg