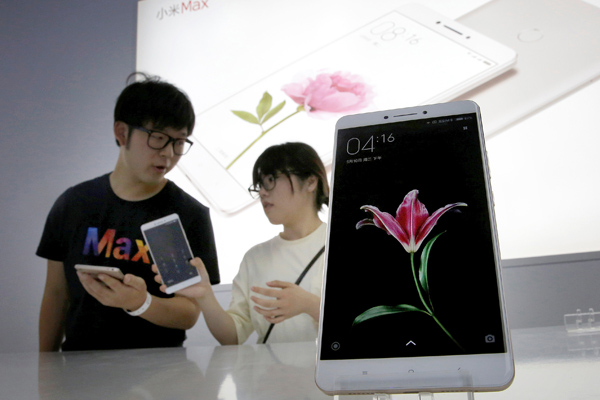 A consumer (right) receives information about Xiaomi's new smartphone Mi Max from a staff member at the flagship product's launch in Beijing. [Photo/Reuters]
On a recent afternoon in northern Beijing, Chinese 20-somethings lean over a long blond-wood table in a retail store, examining colorful smartphones and fitness bands. The white walls and spare space recall an Apple Store, but on display is a wider, and more curious, range of products: "smart" rice-cookers, hoverboards, robot vacuum cleaners, digital bathroom scales and electric air purifiers. A tall salesman in a bright blue T-shirt says they are planning to soon cordon off an area to demo Xiaomi drones.
The brightly lit store is one of 36 locations across the Chinese mainland operated by Xiaomi Corp, a Beijing-based technology products maker that began as a smartphone vendor. Xiaomi has been frequently touted as the "Apple of China."
But Xiaomi has a very different strategy: Instead of meticulously designing products in-house, guided by the technical and aesthetic vision of a Steve Jobs-like figure, Xiaomi is investing in dozens of Chinese hardware startups, branding the devices with the Xiaomi label, and selling them in stores and through its website.
The gadgets can be operated from a Xiaomi smartphone-a classic internet of things or IoT play-and are typically priced near the low range of competing products.
The rice cooker costs about $150, more expensive than traditional electronic cookers, but far below top-end products from Philips and Toshiba, which can run to $450. The Mi Band 2 fitness-tracker costs $22, about a fifth the price of Fitbit Alta.
The strategy is familiar enough: hook customers on an operating system-MIUI, a heavily customized version of Android-so they'll stay loyal to the brand and keep buying more products.
Liu De, who runs Xiaomi's new ecosystems products division, says the business will pull in 10 billion yuan ($1.5 billion) this year-splitting profits with Xiaomi's hardware partners-and double that in 2017. He accepts that this is a "very ambitious goal".
Xiaomi badly needs a second act. A couple of years ago, the company was China's top smartphone seller and for a time the world's largest unicorn after Uber. But its dominance has proved fleeting because consumers have moved upmarket. "They want to get more premium phones and are willing to pay more," said Jessie Ding, a China market analyst at Canalys. "However, Xiaomi's specs have not changed much over past two years." Meanwhile, competition from domestic phone makers has intensified, knocking Xiaomi into fourth place.
The company is trying to claw its way back. Led by Hugo Barra, vice president of global operations, Xiaomi is pushing into other developing markets. India is a particular focus because, like China five years ago, most consumers want value for money, says Tarun Pathak, a market analyst at Counterpoint Research.
But he says it won't be long before Indians, too, will want better phones. Later this month, Xiaomi will launch a premium smartphone with a screen that curves around the side like a Samsung Edge, according to people familiar with the plan. A smartwatch is also expected to debut later this year.
"China is set to embrace a consumption boom over the next 10 to 20 years, we see that crystal clear," Liu said. "What Xiaomi aims to do is to feed this surging demand by introducing products with good quality at a relatively cheap price."
The company's focus, he adds, is on consumers in China's second- and third-tier cities, especially those between ages 17 and 35.
To date, Huami is the most obviously successful device company in which Xiaomi holds a minority stake. Huami's Mi is the top-selling fitness band in China, according to Canalys, and No 2 globally after Fitbit.
Don't count Xiaomi out, Liu said. In niche segments like drones, the company isn't aiming to compete on the high-end with DJI or anyone else. "Our primary goal remains to serve the growing middle class in China."
BLOOMBERG