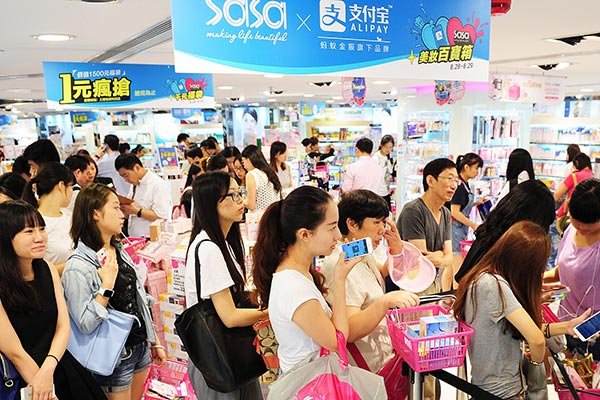 Shoppers use Alipay to pay their bills at the Sa Sa International store in Hong Kong. Alipay operator Ant Financial Services Group aims to sign up 8,000 local merchants before the end of the year in the city. LONG WEI / FOR CHINA DAILY
E-commerce giant Alibaba said it will launch on Oct 13 its online payment service in Hong Kong in the local currency.
Douglas Feagin, senior vice-president and head of international business at Ant Financial Services Group, an Alibaba Group Holding Ltd affiliate, said the company is now focused on expanding merchant acceptance of Alibaba's flagship Alipay service in Hong Kong, and aims to sign up 8,000 local merchants before the end of the year.
So far, only mainland tourists are using Alipay when they buy things from Hong Kong. But Feagin said up to 20 percent of Hong Kong consumers are already users of the mainland e-commerce sites.
In August, Ant Financial was approved as one of the first five electronic payment operators to get the stored value facility licenses by the Hong Kong Monetary Authority.
The other four are O! ePay, the local prepaid card Octopus' mobile payment service, TNG Wallet and Tencent Holdings Ltd's Tenpay, and HKT's Tap & Go.
Alipay is only permitted to conduct online payment operations. Feagin said with its new license, it will try to first enable local consumers to use its service in convenience stores and other offline stores.
As a second step, it will file applications to the HKMA for other services, such as mobile payment at POS machines, peer-to-peer transfers and issuance of physical cards.
Feagin said Alibaba is set to include more offline stores into its payment platform, and to expand Alipay's merchant acceptance across Asia and around the world.
On Tuesday, Ant Financial also announced its cooperation with A.S. Watson Group, retail and manufacturing arm of the local conglomerate Hutchison Whampoa Ltd, and Ocean Park, a local resort and theme park.
Starting from September, Alipay service will be available in more than 600 Watson retail outlets in Hong Kong and some 100 stores in the Ocean Park, it said.
Fanny Ng, business publicity manager at DHC Hong Kong Ltd, told China Daily that the company is willing to work together with such e-payment operators as WeChat and Alipay, but still has the concern that most Hong Kong consumers now use only WhatsApp and Facebook.