$300 million outlay for semiconductor plant to add 2,500 new jobs, boost manufacturing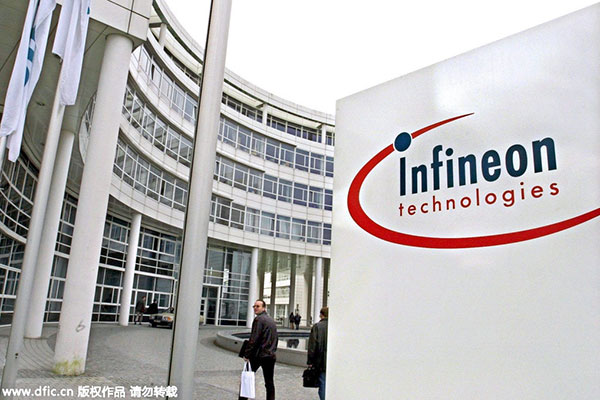 Photo dated March 13, 2000 shows the administration building of the chip manufacturer Infineon Technologies AG in Munich, Germany.[Photo/IC]
Infineon Technologies AG, Germany's largest and Europe's second-largest semiconductor producer, has revealed plans to build a second factory in Wuxi, Jiangsu province, at a cost of nearly $300 million to accelerate its smart-manufacturing capability in China.
Reinhard Ploss, its chief executive officer, said the facility could create around 2,500 jobs once production is at full tilt, adding the country's "Made in China 2025" strategy provides the firm with considerably more design and manufacturing opportunities.
The company, whose products are widely used in bank cards and passports in China, expects the facility to be completed by the end of 2016, and cover an area of 36,000 square meters.
"In the 2014 fiscal year, China accounted for 20 percent of Infineon's total revenue, which made it its most important sales market, even ahead of Germany," said Ploss.
"The new factory highlights our confidence in the continuous opportunities of the Chinese market as well as our commitment to substantial investment in China."
Ploss said China already has nearly half the world's semiconductor consumption, and believes this will continue to grow.
"But there is a clear move away from just usage of semiconductors, to their local design and manufacturing, and we believe the Internet of Things will be one of the next growth areas."
The Internet of Things-which applies to markets including smart homes, grids, mobility and factories-has been identified as a catalyst for economic growth in China and around the world.
Frankfurt Stock Exchange-listed Infineon launched its first branch in China, in Wuxi in 1995, and now employs more than 1,800 Chinese workers.
Its factories here now design, develop, manufacture and assemble a broad range of electronic components and power-related products, which are widely used in automotive, industrial, power management and security-card applications.
"The industry in China is developing. Our goal is not only to successfully grow our business in China but also to grow our reputation as a truly Chinese company.
"We want to be acknowledged as a Chinese citizen that makes its Chinese customers successful, and are making a substantial investment for a joint future success, cooperating with more local partners," said Ploss.
As well as investment in manufacturing in Wuxi, Ploss said other spending would be made in research and development as "competition on a global basis is not just about manufacturing, it is about knowledge, and we have to create more knowledge locally".
Wu Lianfeng, an analyst with IDC Consulting Ltd, told China Daily that the demand for microchips in China is growing rapidly. Foreign enterprises like Infineon can continue expanding their businesses in the country.
"The Chinese chip industry will benefit from cutting-edge technology brought here by leading foreign semiconductor and chip manufacturers.
"Infineon is in a great position to increase its investment in China, at a time when many chip manufacturers are adopting a 'wait-and-see' attitude, as the Chinese government's information security concerns remain."
Wu said Infineon's focus on R&D in China will help the local manufacturing industry migrate toward more smart production.
Gao Yuan contributed to this story.