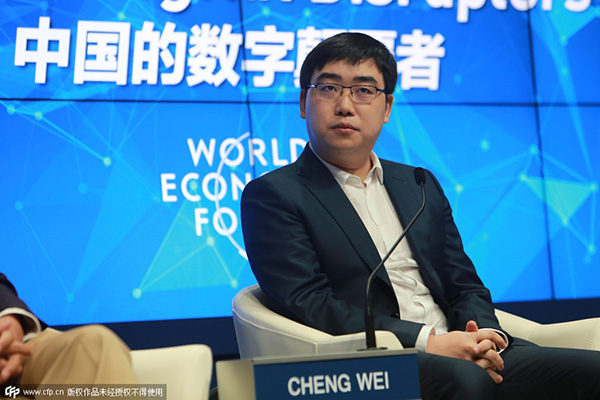 Will Cheng, chairman and CEO of Didi Kuaidi, at Summer Davos Forum, attends Dalian, Sept 10, 2015. [Photo/CFP]
Will Cheng, chairman and CEO of Didi Kuaidi, China's largest taxi-aggregator app:
"China has become the second-largest innovator of Internet technologies thanks to the drive of mass entrepreneurship and innovation. Now Chinese Internet companies have joined their US counterparts in strengthening innovative capabilities while deepening cooperation. We have invested $100 million in Lyft and become its shareholder. Late this year, we expect to launch a `shared software service', which means our customers can receive Lyft's service in the US through our software and Lyft's customers can place orders in China through their software.
"Through cooperation, we can become friends, and learn from each other. Through exchanges, like this forum, I hope we can build our trust and respect for each other. It's important that we have an opportunity to engage in a dialogue in an equal, open and honest manner."