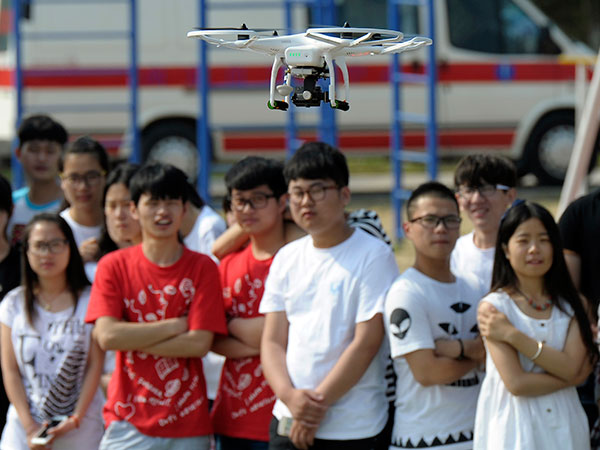 A group of people pose for a picture by using a drone camera in Nanjing, Jiangsu province. [Photo provided to China Daily]
The fledgling market for unmanned aerial vehicles is growing as new models hit stores
It was a cool June Sunday when Li Zhe took his 8,000 yuan ($1,288) drone for its maiden flight outside of Beijing's city center.
An avid model aircraft fan, he was trying out his second UAV, or unmanned aerial vehicle, after buying his first one last year.
"It was great to watch the drone flying and darting around the sky," Li, who works for a real estate company, said.
For years, the 25-year-old used to buy remote-controlled model airplanes in kit form and put them together. But it was a time-consuming business before they were ready to take off. Finally, he decided to switch to drones.
"A friend told me about them, so I bought my first one last year," Li said. "It cost 4,000 yuan and it was already assembled, unlike the model aircraft I used to buy."
Li was also attracted to consumer UAVs because they can take sharp aerial pictures. Since he also has a passion for photography, he could combine both his hobbies.
"My new drone takes wonderful photographs-stunning pictures," he said. "I took some of my friends picnicking in a wood and turned them into a video. Wow, I was so proud of it."
Li is not alone in flying drones. During the past two years, the model UAV sector has become a niche consumer craze.
Although there are no hard figures for the market in China, UAV manufacturers and industry insiders have reported that demand is increasing as prices fall to under 300 yuan for a basic toy drone.
In the next 15 years, the commercial sector, including high-quality consumer drones, is projected to grow to about 50 billion yuan ($8.18 billion) annually, according to Zhang Feng, secretary-general of the Aircraft Owner and Pilots Association of China.
"The country will need more than 10,000 civilian drones once the industry is fully developed," Zhang said. "The market value will eventually reach 50 billion yuan a year and part of that will take into account the consumer drone sector."
The Consumer Electronics Association in the United States has predicted that the global market for consumer drones will be worth $130 million by the end of this year. Around 400,000 model UAVs are expected to be sold worldwide, while sales are projected to reach $1 billion in five years.
Companies here are hoping to cash in on this rising trend, including Dajiang Innovations Technology Co Ltd, a UAV manufacturer based in Shenzhen. DJI is the leading commercial and consumer drone manufacturer in the world with a 50 percent market share. But it only sells 20 percent of its products in China.
Last year, the company sold about 400,000 commercial and consumer drones, and reported a profit of around $120 million, Forbes, the business media giant based in the United States, reported.
"DJI has the right sort of deep technology that we are interested in," Neil Shen, the founder and managing partner of Sequoia Capital China, part of the Sequoia group, which has invested in DJI, told China Daily last month. "That is why it has increased its market share globally."
One of the reasons consumer drones are becoming so popular is that prices have tumbled. Just five years ago, a UAV would cost millions of yuan. Now you can pick up a "professional standard drone" for 4,000 yuan.