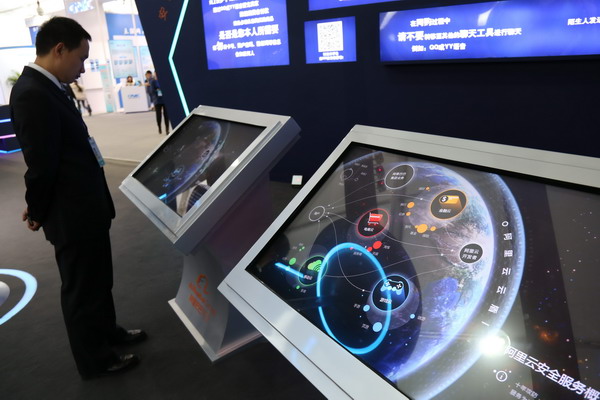 A man looks at Aliyun cyber security services, platform provided by Alibaba, which is shown at a cyber security exhibition on Nov 24, 2014. [Photo by Wang Yueling / Asianewsphoto]
BEIJING -- China on Saturday unveiled an "Internet Plus" action plan, aiming to integrate the Internet with traditional industries and fuel economic growth.
The notion of "Internet Plus" was mentioned by Premier Li Keqiang in March this year when delivering the government work report.
China's "Internet Plus" action plan will integrate mobile Internet, cloud computing, big data and the Internet of Things with modern manufacturing, to encourage the healthy development of e-commerce, industrial networks, and Internet banking, and to help Internet companies increase their international presence, Li said.
The campaign is very important in creating a new engine for economic growth, said Premier Li.
According to the action plan, China will push forward the integration of the Internet and traditional industries, fuel its expansion from consumption industries to manufacturing.
The action plan maps development targets and supportive measures for key sectors which the government hopes can establish new industrial modes by integrating with Internet, including mass entrepreneurship and innovation, manufacturing, agriculture, energy, finance, public services, logistics, e-commerce, traffic, biology and artificial intelligence.
"The government aims to further deepen the integration of the Internet with the economic and social sectors, making new industrial modes a main driving force of growth by 2018," according to the action plan.
By 2025, Internet Plus will become a new economic model and an important driving force for economic and social innovation and development.
To this end, "China will solidify its development basis by promoting Internet technology, infrastructure, [while] tackling the technological bottlenecks of industries and strengthening risk control."
The government will add impetus to innovation. Enterprises will be encouraged to set up platforms and weaving networks for innovation. Industrial standards will be formulated for the integration of Internet and industries, while intellectual property rights will be protected.
China will clear barriers and lower limits for the market entry of Internet Plus-related products, optimize the credit system, draft a big data strategy and promote legal services.
Taking advantage of the China-proposed Belt and Road initiative, the government will encourage more Internet companies to increase their presence in the global market.
To meet the need of "Internet Plus" development, China will train, and make a better use of local and foreign talent, according to the action plan.
The government will provide finance support and tax references to key projects related to the Internet Plus plan, and encourage local governments to follow suit, while welcoming investors from home and abroad.
A ministerial joint conference system will be introduced in order to address important problems in implementing the action plan.
The cabinet also vowed to launch more pilot zones and encourage innovation demonstration zones such as Zhongguancun, the Chinese version of Silicon Valley.
Local governments were urged to come up with their own action plans.
"The favorable wind of Internet Plus is set to push the Chinese economy to a higher level," Li said earlier this year.
The action plan comes as China enters a crucial period for deepening reform and restructuring after the economy registered a growth rate of 7.4 percent in 2014, its lowest pace in 24 years.
China has the most Internet and cell phone users in the world. The country had 649 million Internet users by the end of 2014, and some 557 million used cell phones to access the Internet, according to the China Internet Network Information Center data.