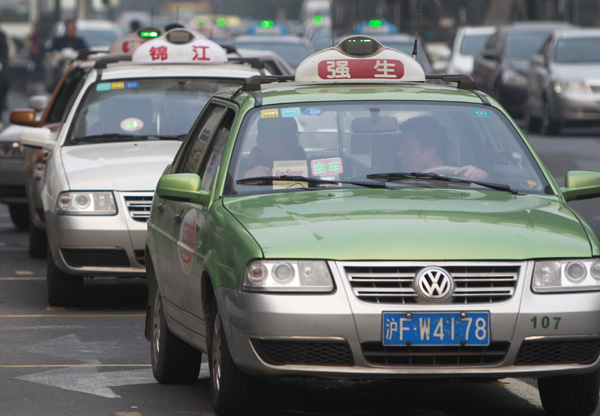 Taxis on the road in Shanghai. The city will legalize car-hailing smartphone applications via an official public services function. [Photo/Xinhua]
Shanghai will start an online car-hailing services platform soon, the first city in China to legalize car-hailing smartphone applications via an official public services function.
To be launched on June 1, the officially backed service will be jointly operated by its traffic and transportation authorities, taxi companies and third-party car hailing service provider Didi Dache.
According to officials, drivers who already use the Didi and Kuaidi apps to take car-hailing orders can join the scheme after Didi Dache, which hosts the two apps, revealed it will join the new platform.
The two apps currently hold a combined 78 percent share of Shanghai's car-booking market, according to data from Analysys International, the market research information services provider.
Market rival Uber, the American transportation network company headquartered in San Francisco, which launched in China in 2014, is not included in the new platform.
Uber has an 11 percent market share in China, according to Analysys, but has been under close scrutiny by the authorities in many cities across the country.
There were 172 million mobile app, car-booking accounts open in China last year, according to data from app developers.
Officials said Shanghai's new platform will allow car hailers to identify the driver's profile to see if they are registered taxi drivers, or drivers of unlicensed "black-car".
When a taxi is occupied, no booking requests will be sent to the driver's phone.
Taxi drivers said the new platform will enhance efficiency and cut out any confusion.
"In the past Didi apps and the taxi company platforms were separate, so when I took an order via app, hailers may still see my car's top light reading 'available', which causes misunderstanding," said Wang Jianmin, a 42-year-old taxi driver in Shanghai.
"With the new platform, my car's top light can be consistent with my booking status."
Analysts said Shanghai's move to give third-party, car-hailing apps official public backing may inspire other cities to follow suit, helping develop and grow the market.
China's transportation ministry banned private cars from offering unlicensed taxi rides via smartphone applications in January.
Beijing's city government has fined countless unauthorized vehicles for accepting orders placed via apps, and offering driving services.