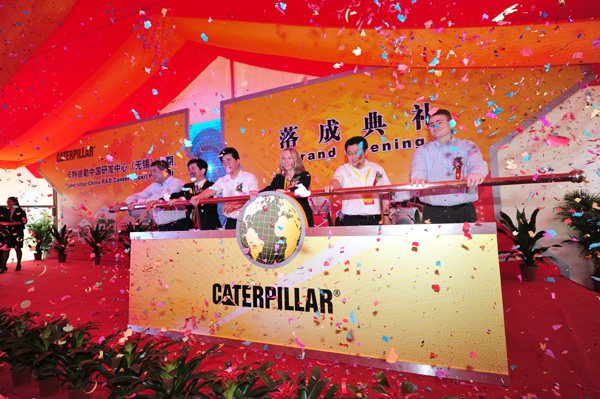 The US-based Caterpillar's third-phase facilities have started operation in Wuxi, Jiangsu province. Multinationals are diving into second-tier cities to build research facilities under more preferential policies. [Photo/China Daily]
Suzhou, Xi'an, Chongqing and Chengdu among hottest locations because of favorable conditions
Foreign technology companies are moving into second-tier cities and developing research centers after taking advantage of preferential policies.
A report released on Tuesday by Gartner Inc, the United States-based information technology research company, showed that "clusters" of tech firms have set up shop away from first-tier cities.
Suzhou in East China's Jiangsu province, Xi'an in Northwest China, Chongqing municipality and Chengdu in the southwest are among the hottest locations for research and development centers owned by overseas tech firms.
"Increasing numbers of vendors are setting up (such centers) in smaller cities," Tina Tang, research director of IT services at Gartner, said. "This is to do with attracting the right staff, lower cost and local industrial support."
She said that a perfect R&D location should be close to mega metropolises, have elite universities to tap into talent and have a developed industrial park hosting major players.
So far, Suzhou, Hangzhou and Nanjing have attracted most of the new R&D centers in the Yangtze River delta, which is close to Shanghai, the country's financial capital.
Cisco Systems Inc, SAP AG and Fujitsu Ltd have opened research facilities in the cities.
Foreign companies tend to be very cautious when choosing R&D centers in China, according to Tang. "They are more likely to bring projects that fit the Chinese development strategy," she said. "The cities with more government support and a better intellectual property protection system will catch the eyes of the companies first."
Samsung Electronics Co opened two research centers in Xi'an less than two years ago. The South Korean giant's data research facilities came with a $7 billion flash memory chip plant, which is also in the city's industrial park.
Kim Ki-nam, general manager of Samsung's semiconductor division, said the talent pool and a major supply chain were the key reasons behind the company's decision to set up an innovation base.
Xi'an is looking to strengthen its hold in the information technology sector over other inland cities by providing low-cost land, tax cuts and human resources to overseas firms. Its annual IT output is the largest in northwestern provinces, according to statistics from the local government.
Eileen He, an analyst with Gartner, said companies looking to build R&D centers in smaller cities should carefully examine the advantages before setting up businesses there.
"Xi'an is an emerging hub for chip makers while Chengdu's advantage is software development," she said.
The new trend took off after some major tech companies decided to close their R&D divisions.
Software developer Adobe Systems Inc removed its Chinese development team last year. Yahoo Inc also dismissed about 200 engineers in Beijing in March.
Tang, of Gartner, suggested the research projects that mirror the Chinese government's strategies are likely to thrive.
"If Amazon and Google Inc are looking to build research centers in China, they should find a coherent link to national strategy," Tang said.
Gartner's report shows that foreign multinationals are willing to invest in R&D here because of the massive size of the Chinese market.
"Building research centers in second-tier cities does not mean the companies are moving out of Beijing, Shanghai and Shenzhen," Tang said. "The innovation facilities in smaller cities can better take advantage of local policies and will play a supporting role to R&D centers in megacities."