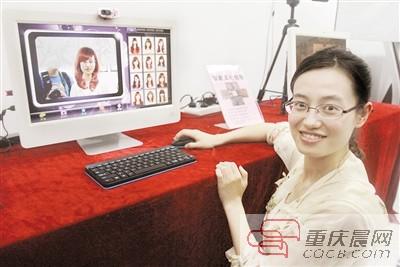 A femal researcher is dispalying a face beautifying software at Chongqing Institute of Green and Intelligent Technology. [Photo/ecns.cn]
Making payments with your face alone may be possible in China by 2015, Chongqing Morning News reported.
Chongqing Institute of Green and Intelligent Technology revealed on Wednesday that it has developed China's first facial recognition payment system that would allow users to conduct online transactions by taking a photo for authentication.
A system App is currently under development and is expected to appear during the second half of 2015, said Zhou Xi, director of Intelligence Multimedia Technology Center at the institute. By then, users would be able to connect their facial data to their bank accounts or credit cards through the app and make payments without passwords or smart phones.
Facial recognition could occur within one second, with the payment process complete in four to six, Zhou added.
According to the director, the payment system achieved a 99.8 percent accuracy rate during 1000 tests.
A new method for information acquisition, by which facial data is collected from 91 different angles, has been created, Zhou said.
The institute has developed an intellectualized algorithm by analyzing over two million sets of facial data to guarantee accuracy, the director added, saying the system could automatically acquire changes in facial features every time a new photo is taken.
What's more, the system can recognize lip-reading, Zhou noted. During the payment process, it could ask users to read a security code on-screen to protect itself against cheats who use the photos or videos of others.
The facial recognition payment system is no longer a novel item. Last year, Finnish company Uniqul claimed it had tested a similar method by scanning faces, though this particular system remains unfeasible at this point.