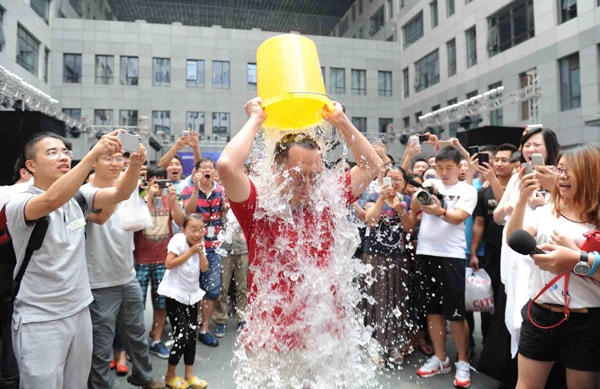 Zhou Hongyi, founder of anti-virus software company Qihoo 360, takes part in the "Ice Bucket Challenge" in Beijing on Monday. The challenge, in which participants are dared to have a bucket of iced water poured over their heads, is aimed at raising money for patients with ALS, a neurodegenerative disorder that is often referred to as Lou Gehrig's disease. [Photo by Yan Tong/for China Daily]
With Ice Bucket Challenge spreading among China's Internet celebrities, an association in China is channeling people's attention toward rare disorders, Xinhua.net reported Tuesday.
Wang Yi'ou, founder of China-Dolls Center for Rare Disorders (CCRD), said the Ice Bucket Challenge was not a publicity stunt for celebrities but an initiative to draw people's attention to rare disorders and patients.
As the main association set to receive donations from the Ice Bucket Challenge, CCRD is a non-profit organization founded in 2008. It mainly provides services to patients suffering from osteogenesis imperfect and other rare disorders.
Top executives of Chinese technology companies, including of Baidu Inc chairman and founder Robin Li, Xiaomi Technology Co's founder and chairman Lei Jun, Qihoo360's President Zhou Hongyi and Youku Tudou Inc's chairman and CEO Gu Yongqiang, have completed the challenge and donated money to the association.
Yi'ou said donation is not the most important goal of the ice water challenge. She hopes that people will pay more attention to the rare disorders and that is the main purpose of the event in China.
Ice Bucket Challenge is a relay game to raise funds for patients of Amyotrophic Lateral Sclerosis, also known as ALS, and it requires participants to pour a bucket of ice water on themselves and then upload the video of the process on the Internet.
However, if they fail to pour ice water on themselves then they will have to donate $100 to the ALS association. After performing the task, challengers can choose another three people to continue the game.
CCRD has received about 30,000 to 40,000 yuan ($4,885 to 6,513) in donations so far, according to the report. Although how much these top tech executives have donated is not yet known.