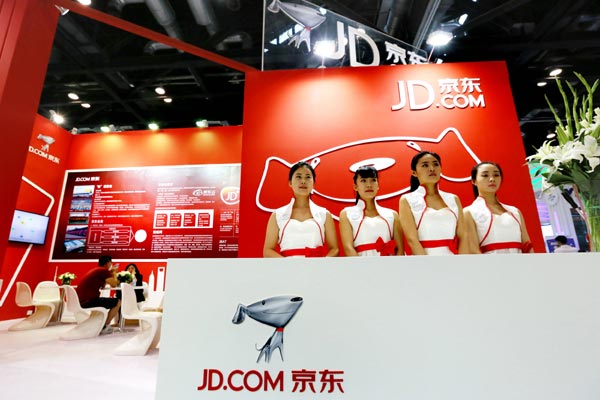 The stand of JD.com at the Beijing International Fair for Trade in Services last month. JD.com Inc has launched its annual promotional campaign to celebrate its birthday on Wednesday. Other online retailers followed suit with similar campaigns to compete with JD. Provided to China Daily
Lower first-quarter earnings cast shadow on prospects for IPO
Alibaba Group Holding Ltd, China's e-commerce conglomerate, disclosed in an updated filing on Monday that quarterly revenue growth slipped to its slowest pace in six years, amid concerns that the development may cast a shadow on its highly anticipated initial public offering in the United States.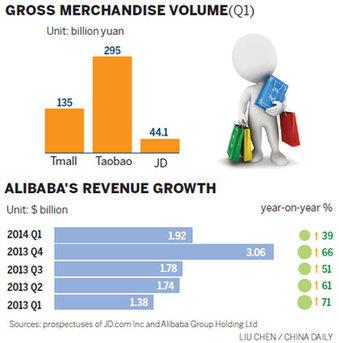 The Hangzhou-based e-commerce giant reported lower revenue growth of 39 percent year-on-year between January and March in its revised filing to the US Securities and Exchange Commission on Monday. The company's growth rate was 71 percent in the same quarter last year. Operating margins narrowed to 45 percent from 51 percent in the previous year. The group's revenue during the first quarter was 12 billion yuan ($1.92 billion).
A growth rate of 39 percent would be considered robust for most companies, but for Alibaba Group, which owns China's largest customer-to-customer platform, Taobao, and the country's largest business-to-customer platform, Tmall, the slowing momentum has triggered concerns ahead of its much-anticipated initial public offering in the United States.
The reported first-quarter growth of 39 percent also marked the first time that Alibaba Group has posted a quarterly revenue increase of below 40 percent since Yahoo Inc, one of its major shareholders, began disclosing results in 2008.
Zhuo Saijun, an e-commerce analyst with the Beijing-based consulting firm Analysys International, said Alibaba's revenue decline in the first quarter was not surprising.
"Alibaba's Nov 11 shopping festival pushed many merchants to increase their online marketing spends during the fourth quarter of 2013. This has led to overdrawn marketing budgets in the first quarter," he said. Zhuo added that Alibaba still dominates China's e-commerce market, but research has shown that its market share is shrinking. "The shrinking is not that significant, but it shows the general trends of competition," he said.