"High average selling prices and huge operator subsidies will make the US a very profitable market for major device brands such as Apple and Samsung," it said.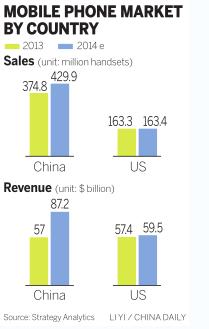 The world's leading smartphone brands may find it difficult to maintain a high growth rate in China, where analysts said the high double-digit expansion may be nearing its end. Additionally, local players are vigorously expanding businesses on their home turf.
Lenovo, better known for its PC business outside China, is betting on smartphones for future profit. The Beijing-based company became the second-largest smartphone vendor in China by the end of the first quarter, data from Analysys International showed. Its 12.3 percent market share only lags behind Samsung.
Coolpad - Yulong Computer Telecommunication Scientific (Shenzhen) Co Ltd - as well as Huawei and Xiaomi Corp enjoyed near double-digit market share and Apple's share dropped to less than 7 percent.
Bryan Wang, China head at consultancy Forrester Research Inc, said 4G is a necessary feature for companies such as Xiaomi to put into their portfolio as Chinese are eager for faster Internet speeds.