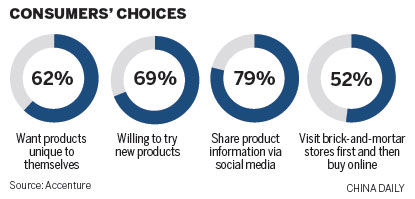 Consulting firm survey reports instant messaging services making inroads
Social media's role in urban consumers' buying decisions is increasing, a survey by global consulting firm Accenture Plc showed on Thursday.
Seventy-nine percent of urban consumers share information on social media and online shopping is growing more popular. Instant messaging platforms such as Tencent Holdings Ltd's QQ and WeChat are popular.
Forty-eight percent of Internet users visit social media sites every day and 51 percent are always connected, Accenture said.
Tencent is China's most used Internet service platform, according to the Shenzhen-based company's website. It listed on the Hong Kong Stock Exchange in 2004.
China had 618 million Internet users at the end of 2013, according to the China National Internet Information Center. That's 45.8 percent penetration.
Mobile instant messaging has "developed rapidly" with 532 million users, the center said in January. People with lower incomes and education are most likely to use social media sites, it said.
For the Accenture report, as many as 73 percent of urban consumers often recommend products they've purchased to friends.
Some people use the platforms to sell online, alongside online shopping sites such Alibaba Group Holding Ltd's Taobao and some electronic commerce retail platforms.
"Business models brought by digitalization have yet to be completely shaped both at home and abroad," Woolf Huang, managing director of products at Accenture Greater China, said. "It's hard to predict whether the e-commerce practices that happened on social media platforms will pose a threat to the existing e-commerce industry giants.