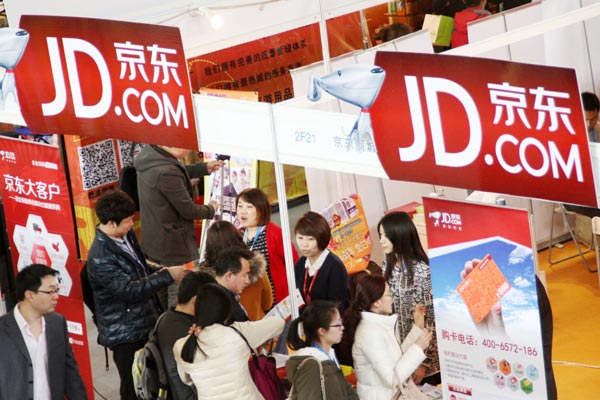 A JD.com Inc stand at a gifts and household items expo in Beijing. JD, one of the nation's leading e-commerce sites, has entered into partnerships with convenience stores in 15 cities in a move to develop its offline business. Provided to China Daily
JD.com Inc, the second-largest business-to-customer e-commerce business in China, teamed up with more than 10,000 convenience stores from 15 cities across the country to try to leverage its online experience in the offline world.
The Beijing-based company announced on Monday it is going to promote a new type of retail that not only allows its brick-and-mortar partners to set up an online presence on JD's e-platform but also helps deliver the purchases based on the company's unique strength in supply-chain management.
More than 10,000 convenience stores from franchise owners such as the Shanghai-based Liangyou Group and the Dongguan-based Miyijia in Guangdong province have joined JD in its new online-to-offline strategy.
"The collaboration aims to combine JD's online strength, such as its large pool of online customers, with convenience stores' offline advantages in service and warehousing," said Shen Haoyu, the chief operating officer of JD.
Despite the booming online retail market in China, Shen said at a news conference on Monday he has never thought that online platforms can replace offline brick-and-mortar stores.
"Rather than competing, online businesses and offline businesses complement each other. There are many offline retailers such as shopping malls and supermarkets we want to cooperate with. The reason we have chosen to team up with convenience stores first is that they are more close to customers because most of them are located in residential communities," he said.