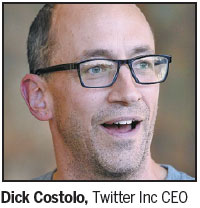 Twitter Inc, one of world's most popular social networking service providers, took its first steps into China on Monday, with the company's chief executive officer starting a three-day visit - his first - to the world's second-largest economy.
Dick Costolo, Twitter's CEO, arrived at Shanghai Pudong International Airport on Monday morning.
His visit will take place only in China's business hub; Beijing will not be on the itinerary this time.
Describing the trip as a personal one, Costolo said he intends to mainly meet with academics, college students and officials in Shanghai.
Twitter refused to disclose more details about Costolo's talks with Shanghai government officials, explaining only that Costolo wants to "learn more about Chinese culture and the country's thriving technology sector".
What has been confirmed regarding Costolo's itinerary is a visit to Fudan University, the official sponsor of his visa. On Wednesday morning, he is scheduled to hold a roundtable meeting with teachers and students at the Journalism School and meet with some of the scholars afterward, according to e-mails from the school.
Hong Bo, an IT reviewer and former editor-in-chief of DoNews, a large information technology forum in China, also characterized Costolo's visit as basically a personal, not a business, trip.
"It is still very difficult for Twitter to enter China for the time being, as many of the tweets touch on political topics. But its Chinese counterpart, Sina Weibo, does not serve as an outlet for these sensitive topics," he said.
China is a huge market that no company would turn down, "but we have also seen Facebook receiving more than 1 billion users and prices going up even though it has been blocked in China for a long time", Hong said.
It also was reported by Shanghai local media that Costolo would meet with the officials from the China (Shanghai) Pilot Free Trade Zone. But the administrative committee of the FTZ said it had not been informed about Costolo's schedule, which was arranged by Shanghai's foreign affairs administration department.
Before the FTZ - which serves to test market liberalization measures - was officially established, there were media reports of loosening Internet restrictions, such as lifting the ban on Facebook Inc and Twitter.
But authorities quickly scotched those rumors, and no sign of loosening has been shown thus far.