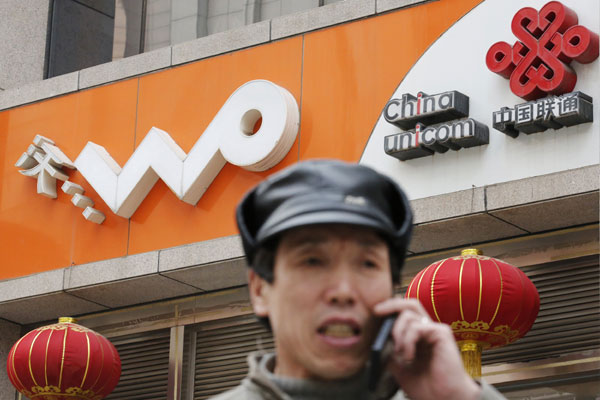 A man uses a mobile phone in front of a China Unicom retail shop in Beijing March 21, 2013. [Photo/Agencies]
China United Network Communications Co Ltd, known as China Unicom, said on Thursday that it would announce its official TD-LTE 4G services and packages in 25 major cities in China on March 18.
"The 4G service will be expanded to 56 cities by May 17 and reach 300 cities by year-end," said Lu Yimin, executive director and president.
Lu said that the company is actively building its TD-LTE network infrastructure nationwide. It's also conducting a large-scale test of FDD-LTD services on its current WCDMA technology.
Three carriers in China received licenses in December to operate 4G services. Two-China Mobile Communications Corp and China Telecom Corp Ltd-have already launched 4G services in the mainland.
China Mobile had 4G services in 16 cities as of Dec 31, catering to the smartphone market. China Telecom offered 4G services starting in January, but only through data cards and wireless routers.
Chang Xiaobing, chairman and chief executive officer of China Unicom, said that operators will adapt different approaches to provide 4G services and the company is communicating with relevant government authorities to speed up the issue of FDD-LTE licenses.
The country's biggest fixed-line operator increased its 3G base stations by 76,000 to 407,000 in the past year. 3G service revenue rose 50 percent to 89.8 billion yuan ($14.6 billion), accounting for about 60 percent of China Unicom's mobile service revenue.
"Our first priority in 2014 is still to improve our 3G WCDMA network and set up our TD-LTE gradually. Meanwhile, we will prepare to deploy the FDD-LTE network, if approved by the government," said Chang.
Lu said the company will have advantages over competitors in terms of 4G services.
"We have a sound user base in the north of China, and we are the biggest internet operator in the world," he said.
As of January, the company had 280 million mobile subscribers, having added 41.6 million new ones in 2013.
China is expected to have 30 million 4G mobile network service subscribers by year-end, according to the Ministry of Industry and Information Technology.
The company reported operating revenue of 295 billion yuan in 2013, up 18.5 percent. Net profit climbed 46.7 percent to 10.4 billion yuan.