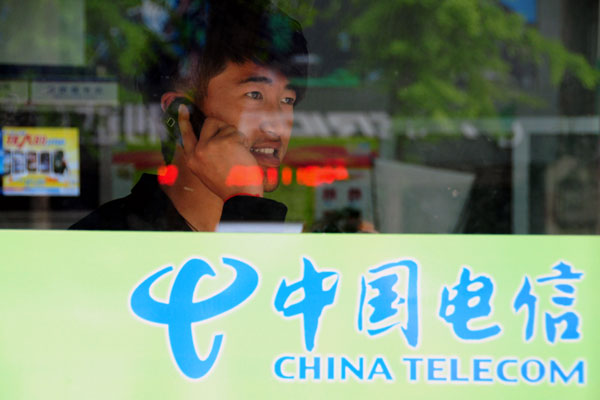 A customer makes a call in the business hall of China Telecom in Linyi city, Shandong province. Fang Dehua / for China Daily
Nation's mobile carrier seeking to expand to information services
China Telecom Corp Ltd, the largest fixed-line service and the third-biggest mobile network operator in China, aims to become a world leader in integrated information services by 2016.
As an increasing number of Chinese enterprises expand overseas, China Telecom hopes to play an active role in supporting them with seamless global information services, Deng Xiaofeng, chief executive officer of China Telecom Global Ltd, told a news conference in Beijing on Thursday.
Hong Kong-based China Telecom Global Ltd was established in 2012 and is solely responsible for China Telecom's global business operations. It has about 700 staff around the world,
Deng said his company's sales have grown 20 percent annually in recent years, about double the industry average.
"We will launch cloud-based services across the globe, covering major world cities, including London, Frankfurt and Sydney, this year," Deng said.
The cloud service will mainly focus on Chinese companies that plan to go global. For example, when Chinese Internet companies such as Tencent Holdings Ltd and Alibaba Group Holding Ltd expand overseas, they will require robust IT and telecom support, he pointed out.
China Telecom will provide Chinese enterprises with comprehensive communications information solution packages, including international voice services, local Internet access and long-distance, high-quality videoconferences.
To provide those services, China Telecom will cooperate with global telecom operators. The company has formed alliances with more than 200 major telecom carriers in different countries, including AT&T Inc in the United States and Orange SA in France.