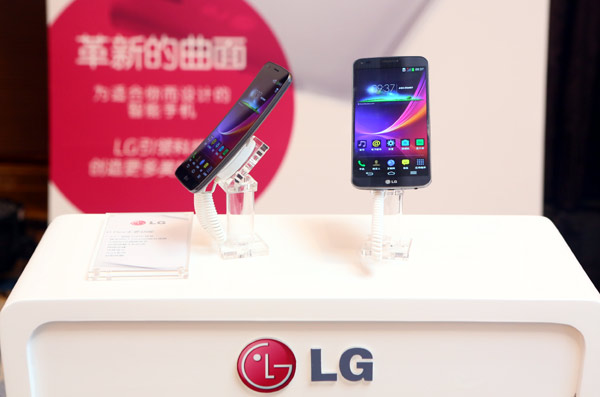 Two curved screen smartphones produced by LG Electronics are on display
at a launch party
on Jan 21, 2014 in
Beijing
.  [Photo / Provided to chinadaily.com.cn]
LG Electronics on Tuesday introduced the world's first curved screen smartphone to China in hope to reach the booming 4G market.
China's growing user number of fourth generation telecom services will provide a brand new market for LG and the company plans to use the curved product to open the door of 4G market, said the company.
Priced at 4,999 yuan ($285), LG said the product is set to get attention of high end customers in the country.
"Curved screen is set to be the next maga trend in the industry and about 40 percent of the devices sold will equip such displays by 2018," said the South Korean company.
Local e-commerce website JD.com will help LG to sell the first batch of 10,000 devices starting on Friday, according to Wang Xiaosong, vice-president of JD.com.
"Because of the yield of the product remains low, only a small amount will be sold in China before the Spring Festival," said Wang.
LG pledged to increase shipment to China if the preorder goes well. But it did not give specific amount.
South Korean makers are in favor of launching curved screen devices including high definition TVs and smartphones.
In last October, Samsung Electronics Co also unveiled a curved screen smartphone. The company did not introduce the device to China market.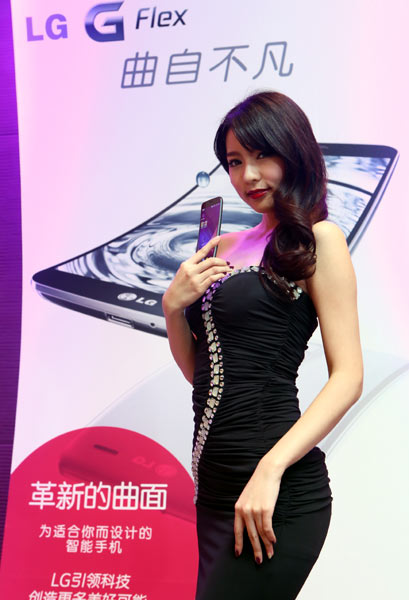 A model poses with a curved screen smartphone produced by LG Electronics at
a launch party
on Jan 21, 2014 in Beijing.  [Photo / Provided to chinadaily.com.cn]