LG offers 1st curved TV to China market
Updated: 2013-09-13 21:19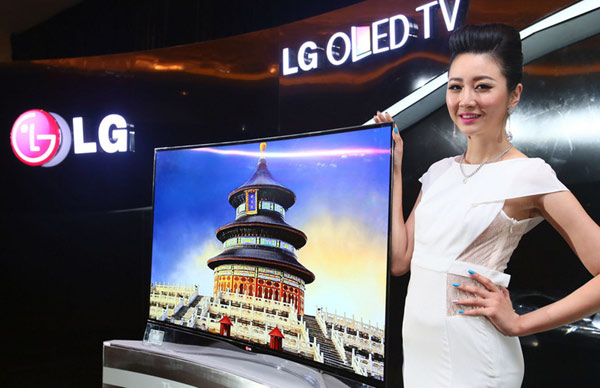 A model displays a LG's world's first curved OLED TV on Sept 13, 2013 in Beijing. [Photo /
dfic.cn
]
South Korean consumer electronics and appliances company LG Corp introduced the world's first curved OLED televisions to the Chinese market on Friday, securing the company's position as a leading TV manufacturer in China.
LG's curved OLED TV boasts a technology that enables the firm to build thinner and lighter TVs than traditional LED TVs. Priced at 59,999 yuan ($9,800), LG said the newly launched TV is available on both China's online and offline channels.
LG launched the curved OLED TV in South Korea in April and later sold the products to the United States and European nations.
Shin Moon-bum, president and chief executive officer of LG Electronics China, said China's premium TV market is rapidly growing and LG aims to keep its market leadership. "Customer demand is always the driver for LG's development and guides our direction," Shin said at a Beijing news briefing on Friday.
Launched in 1993, LG Electronics has three research and development centers and one design hub in China, with a total employee number of 36,000.
Television is an integral part of family entertainment in China. The competition in the Chinese television market is getting fierce because many newcomers, such as Internet companies, have started to seek a share in the sector. Beijing-based Xiaomi Corp launched its first television product earlier this month, mainly targeting young Chinese in their 20s and 30s.