HTC eyes high-end market in China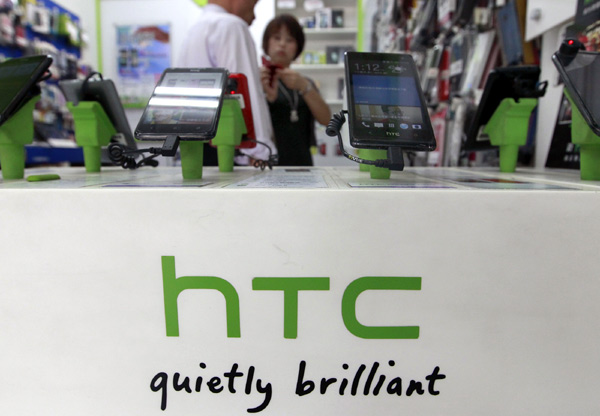 Customers look at HTC smartphones in a mobile phone shop in Taipei July 30, 2013. Taiwan's HTC Corp expects revenue to fall as much as 30 percent in the third quarter compared to the previous three months, far below analysts' forecasts. [Photo / Agencies] 
Taiwan-based HTC Corp released its flagship Butterfly S smartphone on the Chinese mainland on Tuesday, hoping the high-end product will improve the company's brand image and revive sliding sales in China.
"Butterfly S not only has a very fashionable look, the smartphone is also equipped with our company's most advanced technologies," said Jack Tong, the president of HTC North Asia, who was recently appointed to lead the company's China division as well.
The launch of Butterfly S in Beijing comes shortly after HTC unveiled its One smartphone, another high-end flagship product, which was released in London this spring. By having two types of high-end smartphones on the market, HTC officially unveiled its "double flagship" strategy in China.
"With two high-end products, we hope we can gain more market share in the top-end market in China so that people can have a stronger impression of HTC as a high-end, top-quality smartphone producer," Tong said at a news conference in Beijing.
HTC's effort to woo Chinese consumers comes amid a slump in the company's sales globally. Once a leading Android smartphone maker, HTC's market share has dropped in the past two years amid product delay and unsuccessful marketing.
According to the company's second quarter financial report, HTC's Q2 revenues fell 22 percent from a year earlier. Its gross profit was down 33.33 percent year-on-year.
Tong has already recognized the importance of marketing and branding. He frequently mentioned the word "branding" during the news conference and pledged to find the best team to come up with a localized branding strategy on the Chinese mainland.
"HTC has been selling under its own brand since 2011. We are a relatively newcomer here, but branding is a long journey that requires a lot of time and resources," he said.