Talkweb Information System Co Ltd announced on Tuesday that it signed a cooperation agreement with US-based game company Electronic Arts to operate Plant vs Zombie 2 on the Chinese mainland.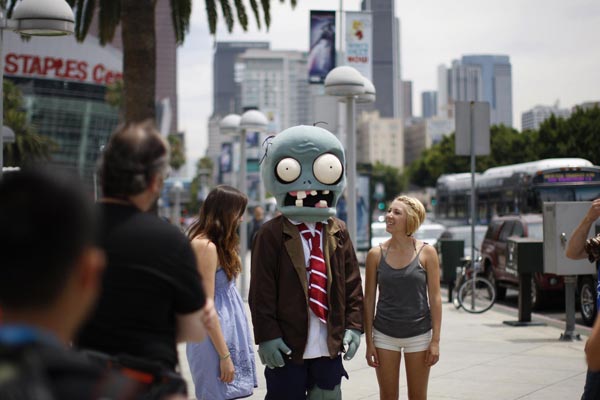 A person dressed as a zombie in the "Zombies vs Plants 2" game walks down the street to E3, the Electronic Entertainment Expo, in Los Angeles, California, June 11, 2013. [Photo / Agencies]
The Nasdaq-listed EA is a US-based game developer and distributor. PopCap Games Inc, producer of the Plant vs Zombie series games, became an EA subsidiary in July 2011.
According to the agreement, Talkweb will help run operations of Plant vs Zombie 2 on the Chinese mainland, as well as Bejeweled Blitz, another PopCap game. Talkweb will take 25 percent of the total revenue as the games' operator.
Talkweb started cooperation with PopCap in October 2011, to help run Plant vs Zombie on the Chinese mainland. Talkweb gained 1.02 million yuan ($165,000) from operations of PopCap games in 2012, accounting for 0.24 percent of Talkweb's total revenue.
In the first half of this year, the company received 18.7 million yuan in revenue in PopCap game's operation, accounting for 8.4 percent of its total revenue.