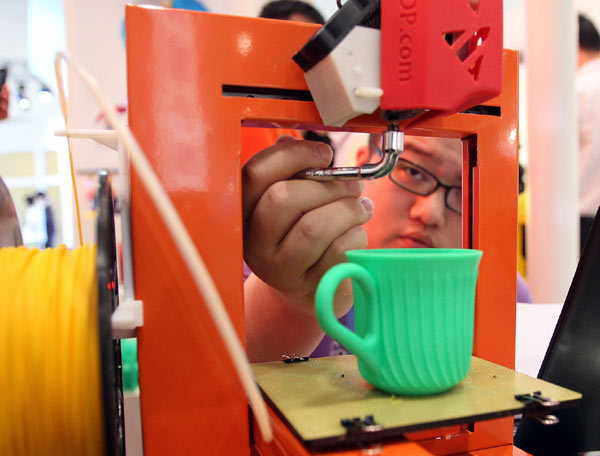 A 3-D printer produces a cup at the China Beijing International Fair for Trade in Services on Wednesday. China's 3-D printing industry generated revenues worth around 1 billion yuan ($163 million) in 2012, according to the Asian Manufacturing Association. [Photo / China Daily]
China, known as the world's factory, is exploiting three-dimensional printing technology to help its manufacturers make high-end products.
Wuhan was an early adopter of 3D printing technology: the first Chinese three-dimensional printer with independent intellectual property rights was developed in the city in 1994.
Now, Wuhan is riding the wave of the so-called third industrial revolution, to get a piece of the emerging 3D printing market that is expected to hit 10 billion yuan ($1.6 billion) within three years.
In contrast to traditional printing techniques, where materials are removed by cutting, bending, pressing, molding and other processes, 3D printing - also known as additive manufacturing - adds layer after layer of materials until the finished form is achieved.
Though the technology hasn't yet been deployed on an industrial scale, it can reduce molding times, as a click of the "print" button can automatically produce a solid product based on preset, 3D data.
Experts said that during the next decade, the technology will make thousands of labor-intensive manufacturing plants obsolete.
To capitalize on this huge potential, Wuhan, the capital of Hubei province, is establishing a 3D printing industry innovation center and technology industrial park in the Wuhan East Lake High-tech Zone.
Wuhan Binhu Mechanical and Electrical Co, which claims to be the first in the world to offer models with a printing size of 1.4 square meters, will move to the park.
"After the project is complete, a 3D printing technology transfer center and incubator will be established here," said Shen Qiwen, a professor at the Huazhong University of Science and Technology. "By then, a complete industrial chain will be formed from upstream to downstream that includes material suppliers, laser producers and even museums."
The company was founded jointly by the local government, Huazhong University of Science and Technology and Shenzhen Innovation Investment Group.
Zhou Gang, deputy general manager of Wuhan Binhu, and a researcher at Huazhong University, said the potential applications for 3D printing are extensive.
Companies involved in aeronautics, vehicle parts, heavy equipment and biomedicine are all heavily investing in the technology.
"Additive manufacturing can't replace the traditional volume production," Zhou said. "But it can be used in research to develop new products, or small-scale customized production."
3D printing technology can enable manufacturers to shorten production cycles, better meet individual needs and easily cope with the production of complex or large-scale components.
For example, the cost of producing an engine side panel for a truck using 3D printing technology is less than 500,000 yuan, compared with about 2 million yuan for just the mold cast using traditional production methods.
Liu Kun contributed to this story.
Special: 3D printing reshapes manufacturing