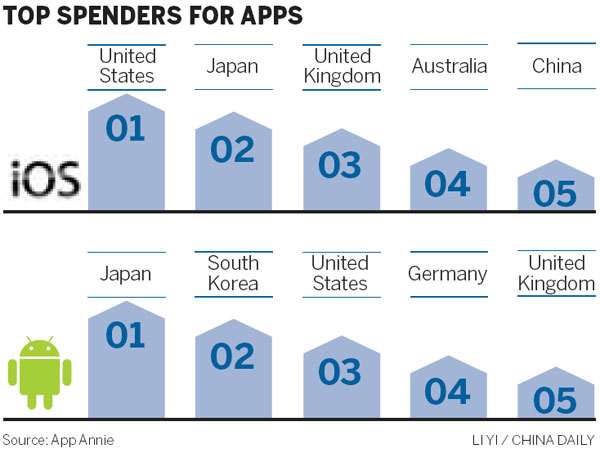 Intensifying domestic competition is driving Chinese mobile game developers into overseas markets, said Google Inc, owner of the world's most used smartphone operating system.
Japan and South Korea may become "sizeable" money-spinners for developers in China in the coming years, it added.
"Tapping into South Korea and Japan makes sense for Chinese developers, because both countries have a large smartphone user base and high sales volume in the mobile gaming sector," said Ben Zhang, China head of Google Business Solutions.
Japan and South Korea are the top revenue contributors on the Android and iOS systems, data from industry research company App Annie show.
South Korea has the world's highest smartphone penetration rate, and that's boosted the gaming industry, said Zhang. Smartphones accounted for more than 70 percent of the country's mobile phone market in the second quarter of the year.
In Japan, although smartphones only represent about one-fourth of the mobile phone market, players are more willing to pay for the apps than in other countries.
"The global market offers huge business opportunities for Chinese developers because of the size and rapid growth speed," said Tatsuo Sakamoto, a Google mobile business specialist based in Tokyo.
According to industry research firm Newzoo, one in three app downloads is for a game, and two-thirds of all mobile app spending goes into gaming.
"There are more than 500 million mobile gamers, with 35 percent willing to buy paid games on mobile devices," it said.
The huge user base has delivered fat profits for international developers. Global mobile game revenue could reach $8 billion this year, up from $5.8 billion in 2012, Reuters estimated.
International app markets tend to be better regulated and offer stronger intellectual property rights protection than the Chinese market, a major reason for local companies to go abroad, according to Zhang.
"The mobile gaming market in China is extremely fragmented, with hundreds of online app stores operating. The large number of distribution platforms makes it difficult to regulate the Chinese app market" he said.
"In developed nations, there are only two app stores: Apple's app store and Google Play. Fewer distribution platforms mean better quality control and orderly competition."
But overseas mobile gaming markets should not be seen as low-hanging fruit for Chinese developers, researchers warned.
Poor localization and lack of knowledge of target markets may undermine Chinese companies' international strategies, according to Sakamoto.
"You have to study user preferences before tapping into the target market. Every market has its own unique gaming culture and business model. There is no one-size-fits-all solution," he said.
Local developers are also exploring overseas markets because domestic competition is intensifying.
The market share of mobile games could exceed 14 percent of the industry total by the end of this year, Beijing-based research firm iResearch Consulting Group has estimated.
Large Internet game developers are launching mobile games, a sign that competition will intensify further, according to an iResearch report.