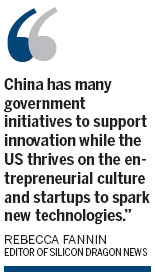 The United Kingdom lags behind China and the United States on investing in technology to drive innovation, according to a survey of business leaders across the UK.
That was the view of 56 percent of the 275 executives polled in a recent survey by consulting firm Accenture Plc.
"A tough economy over the past few years has led businesses to concentrate on cutting costs and improving employee productivity, making the focus on innovation insular," said Andrew Poppleton, managing director of Accenture's UK and Ireland technology group.
In an Accenture survey two months ago of 500 executives and public-sector leaders worldwide, more than two-thirds of those business leaders said China would reach or pull ahead of Europe in terms of innovation by 2023. However, two-thirds of those polled also said the European industry was still competitive internationally.
Rebecca Fannin, founder and editor of Silicon Dragon News, who has long followed innovation in China's industrial sector, told China Daily she was not surprised the UK is lagging behind China and the US in investing to drive innovation.
"China has many government initiatives to support innovation while the US thrives on the entrepreneurial culture and startups to spark new technologies," said Fannin, author of the book Silicon Dragon & Startup Asia.
Fannin said many UK venture investors have scaled back after the dot-com boom of the late 1990s and early 2000s. The US remains the leading venture market in the world, followed by China.
China spent about 1 trillion yuan ($160 billion) in research and development in 2012, accounting for a little less than 2 percent of its GDP. About 74 percent of that investment was made by businesses.
As the leaders of the world's second-largest economy vowed to move to an innovation-driven society by 2020, the investment in GDP has increased 20 percent each year for the past six years.
Huawei Technologies Co Ltd, for example, has often been regarded as a good example of this by analysts in and outside China. The global provider of telecommunications equipment and services applied for more than 54,000 patents in 2012, including 14,000 filed outside China. Of those applications, Huawei was granted 30,000 patents.
In the same year, the company - whose investment in the US has often raised concerns among some politicians for national security reasons - invested $4.8 billion in R&D.
Another example is China's biomedical sector, which is rapidly transforming itself from a manufacturing base into an innovation hub by investing billions of dollars leading to innovations, according to a study by Lux Research, an independent research firm.
ZDNet, a business technology news website, has recently reported that technological innovation would shift toward China because of market opportunities, strong capital availability and government incentives for certain information technology segments.
While PetroChina Co Ltd was the first Chinese company to enter the Top 100 of Booz & Co's Top 1,000 Global Innovation List in 2012, the number of Chinese companies on the list has steadily grown to 47 from 40 in 2011 and 23 in 2010.
The US is still ahead of China in total government and private-sector investment in R&D, with nearly twice as much. However, the White House Council of Advisors on Science and Technology warned that if the current trend continues, China may overtake the US within a decade.
Ann Lee, an adjunct professor at New York University, said China is still not taking a lead in disruptive technological breakthroughs.
"(It is) getting closer because China is catching up in its understanding of current technologies and will eventually be in a position to contribute more to breakthrough technologies," said Lee, author of the book What the US Can Learn from China.
A recent KPMG report surveying more than 800 global business leaders showed more people believe the US, rather than China, will be the biggest innovation hub in the years to come.
"China did not invent things such as high-speed trains or drones, but if the Chinese keep up their R&D investment and learning curve, then they should lead at some point in the not too distant future," Lee said.