Xiaomi needs to take its customers more seriously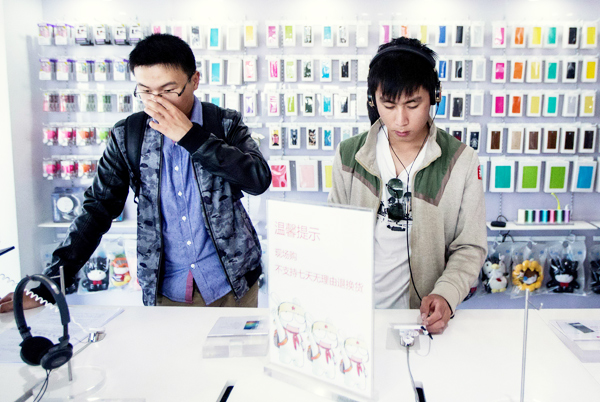 Customers try Xiaomi smartphones at an outlet of Xiaomi Corp in Hangzhou, capital of Zhejiang province. XU KANGPING / FOR CHINA DAILY
A recent news report on the battery fire of a Xiaomi smartphone caught my attention, because, as one among the millions of Xiaomi users, I should have concerns about my own safety.
A Xiaomi user, surnamed Wang, claimed that her Redmi Note 3 cellphone, which she bought from one of the country's biggest e-commerce platforms at a price of 1,299 yuan (about $190), caught fire while charging.
She reported the case to Xiaomi Corp, which, before having conducted a thorough investigation, promised to provide a refund and an additional 600 yuan in compensation, according to the Beijing Morning Post.
A consumer would have been pleased by such a swift and considerate response from the phone manufacturer, but wait, that was not the whole story.
Xiaomi allegedly required Wang to sign a confidentiality agreement, which would mandate her not to disclose any information of the incident to the media or the public, should she want to get the refund and additional compensation.
The way that Xiaomi handled the incident made me feel puzzled. To me, the logic is a bit weird, or it could be considered a rash decision or a cheap PR trick, if not amounting to an attempted cover-up.
For Xiaomi, whose brand was valued at 52 billion yuan by the Hurun Brand List, it should have cherished its brand more than anything else and it would be naive to attempt to use less than one hundred dollars to keep the incident hush-hush. If not appropriately handled, it could harm its branding efforts, and the slightest damage to its brand image could easily cost it millions or even billions of yuan.
Just before I started writing this article, I logged on to the Xiaomi website to check the latest developments in the incident, but unfortunately, I did not find a single word about it or investigation progress, as if nothing had ever happened.
For the concerned customer, her safety and dignity should not and could never be measured by a few hundred yuan in compensation, and that simply won't work.
I'd like to thank the user for not agreeing to Xiaomi's offer. The exposure of the incident would at least force Xiaomi to act to eliminate any hidden hazards to Xiaomi users.
Also, industry regulators would probably exert pressure on Xiaomi to improve its battery design and manufacturing.
With Samsung's global recall of its flagship Galaxy Note 7 smartphones, which could catch fire while charging, as a precedent, Xiaomi should have taken the incident more seriously.
For branding and confidence-building purposes, it would be advisable for Xiaomi to use the most transparent way to reveal details of the incident and investigations, to keep the public and Xiaomi users informed.
If investigations prove that the fire was caused by a quality defect, Xiaomi would have to bear liability and take remedy measures. Battery design and manufacturing should then be improved, which would be good to all users. And if it was proved otherwise, as caused by inappropriate use such as overcharging, it would help Xiaomi boost its image as a responsible company.
Whatever the findings might be, the incident should serve as a warning for Xiaomi and its likes: always give top priority to the quality of their products and the safety of consumers.
Xiaomi, a six-year-old tech company, has established itself as one of the top smartphone vendors. In 2016, its smartphone shipments were 41.5 million, down about 36 percent from 2015, according to International Data Corpo.
With such a big customer base, it is hoped that Xiaomi will take customers' safety seriously, and take its brand seriously, on its way to achieving its 2017 revenue goal of more than 100 billion yuan.