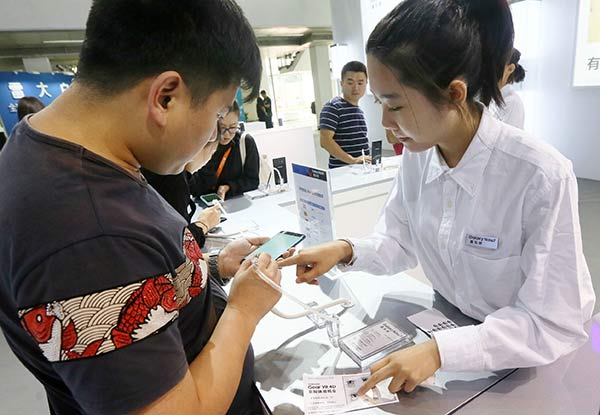 A visitor inquires about a Samsung smartphone at an international telecom expo in Beijing. [Photo/A Jing, China Daily]
I still remember that the Nokia mobile phone I used about five years ago was so solid that its screen never broke, despite the fact that I accidentally dropped it on the ground many times.
I miss my Nokia mobile because the screen of my current smartphone, a Samsung A8000, was broken recently when I accidentally dropped it on the floor at home. It cost me 780 yuan ($117) to replace the broken screen.
Although I had fixed a protective film to the 5.7-inch phone screen, this proved ineffective as the screen was so easily broken that the display instantly turned totally black.
A cost of more than 700 yuan to replace the screen of the A8000 is too high for me. The cost of the screen is actually only about 300 yuan, according to my online research.
I went to the Samsung-designated maintenance center near my home in Beijing the first time my smartphone was broken. When I asked the receptionist if I could get a new screen for my broken A8000, she simply said "no" without any hesitation.
But she then added, "or you can leave your smartphone here and wait at least half a month, because it takes that much time for us to order a new screen for your mobile from a Samsung factory in Tianjin".
"A replacement of A8000 screen will cost 650 yuan," she said.
At that time I was very disappointed leaving the maintenance center, because it was difficult to imagine a day without a mobile phone, and just how inconvenient that would be for me.
So, after leaving the Samsung-designated service station I had to go to a nearby privately run mobile phone maintenance service.
The technician said he could replace my mobile phone at a cost of 780 yuan, however, the only A8000 screen he had available was a black one, although my phone was white.
He complained that the profit margin of replacing an A8000 screen was so thin due to the high cost of the AMOLED screen.
"Replacing the screen of a Huawei Maimang 4 screen costs only 550 yuan because the handset is equipped with a 5.5-inch LCD display," he added.
Although he could not convince me, what the technician said was not entirely groundless.
At present, market demand for smartphone parts and components is huge in China as the country has now more than 1.3 billion smartphone users.
Chinese companies that are involved in parts and components manufacturing have developed very rapidly in recent years.
For example, Lens Technologies, founded in 2003 and one of the country's largest smartphone screen suppliers, earned revenue of 5.66 billion yuan in the first six months of this year, although this was down 34.66 percent year-on-year.
According to the 2015 Hurun report, Shenzhen-based Lens' founder Zhou Qunfei was the country's richest businesswoman, with personal wealth in excess of 50 billion yuan.
Lens' corporate customers include Apple Inc and Huawei Technologies Co.
Because of the huge profits to be made from smartphone parts and component manufacturing, Samsung Electronics still produces AMOLED screens for its smartphones in house, as well as for more than 20 global smartphone brands.
The Samgung A8000 I bought a year ago cost me about 3,000 yuan, but replacing a display screen needs another investment of about 26 percent of the handset' s price.
So, might it be a good choice for a handset user to buy a new one without bothering to repair it if the cost is not a problem for them? I wonder whether this is a result that many smartphone producers are happy to see.