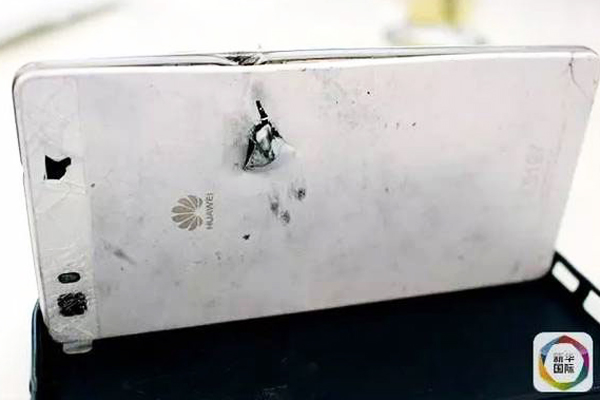 A Huawei smartphone, which saved the life of a businessman who was shot by robbers in South Africa. [Photo/Xinhua]
A recent news story about a Huawei smartphone, which saved the life of a businessman who was shot by robbers in South Africa, was one of the most read on social media in China.
It has also helped draw fresh attention to Chinese brands or "Made in China" products.
It might be a coincidental or magical episode for Chinese brands in that story, but on the other hands, the "Made in China" products are winning substantial recognition and praises from their users worldwide.
China is turning from a "manufacturing powerhouse" to "a smart, intelligent manufacturing giant," which is providing the world with brilliant, innovative products and services with high technical and cultural inputs.
Chinese handphones popular worldwide
According to British newspaper Daily Mail, South African businessman Siraaj Abraham was ambushed by masked raiders late August outside his house in Cape Town, and one of the robbers shot Abraham in the chest from a distance of only two meters.
Thanks to a Huawei P8 Lite smartphone stored in Abraham's front pocket, which was hit by a 9mm bullet but fended the bullet from entering the 41-year-old man's body, his life was miraculously saved.
The Huawei smartphone does not have a metal body, but its plastic build managed to stop a flying bullet.
Huawei later presented Abraham with a brand new Huawei P9 Lite to replace his damaged phone, for free.
Advertising giant WPP's market research unit, Millward Brown, believed that China's telecom leader Huawei enjoys a growing business presence worldwide, and its smartphones have become a powerful growth engine with soaring popularity and reputation with consumers.
Xiaomi smartphones, which emerged in recent years in China, are also highly sought after overseas. Chinese smartphone maker Xiaomi now has gradually entered Singapore, Malaysia, Indonesia, India and Brazil, among others, after its products were launched in Taiwan and Hong Kong regions of China in April 2013.
The popularity of OPPO, another Chinese smartphone brand, is steadily growing in Africa and Arab countries like Egypt.
China's movies, TV serials enter ordinary African houses
Watching TV was luxury in Africa in the past, with an initial installation charge of $200, a commissioning cost of $50, and a subscribing fee of at least $47, recalled an office salary earner called Joseph in Kenya.
Nowadays, Kenyans only need to pay $20 for a set top box and some $2.5 extra for a package to watch quality digital programs. This is brought to Kenya by Star Times, a Chinese private company that has successfully made its foot prints in the African continent.
Zhang Junqi, CEO of Star Times' Kenya subsidiary, said that over the past years, Star Times has established branches in more than 30 African countries like Nigeria, South Africa and Tanzania, with more than 8 million subscribers.
Star Times has become the most influential digital television operator in Africa now, Zhang said.
To meet the rising demand for Chinese movies and TV programs by more and more Africans, the company established a regional producing center in 2011. In a Chinese movie and TV channel launched by Star Times, those stories about daily life of Chinese families, Chinese countryside and success stories of individuals are most popular among the audience.
He said while Chinese products are bringing the Chinese people and African people closer, Africans look forward to learning more about China and regard the Chinese TV serials as echoing and reflecting the feelings and experiences of their own.
Chinese metro vehicles win praises from Rio Olympics hosts
Chinese metro vehicles or coaches have won praises from the hosts of the Rio Olympics which just was held in the Brazilian city last month.
The city of Rio de Janeiro opened its long-awaited metro Linha 4 a week before the Olympoic Games began. The coaches of the line were made by Chinese producers.
Cristiano Mendoza, a project manager of Rio Metro Barra which ran the line, said in a letter to the line's contractor, the Changchun Railway Vehicles Company, expressing appreciation for the good work done by the company.
"The newest set of modern railway vehicles have won not only praises from Rio Metro Barra, but also the citizens of Rio and Rio Olympics audiences and sportsmen and sportswomen from around the world," said Mendoza.
The Changchun Railway Vehicles Company has already signed contracts to provide vehicles for subways and metros in five Brazilian citieies with a total of over 600 coaches worth about $1 billion.
During the Olympic games, the Chinese coaches have played a major role in offering top-quality transport services to the public, said Rio metro people.